Vaccine clinic in 'whitest and richest' Lakewood Ranch sets off fury in Manatee County
LAKEWOOD RANCH, Fla. - A special state program to vaccinate certain residents in Manatee County is coming under fire by critics on the county commission who say it smacks of racism and classism.
"This is bad for all of us, regardless of what district or population we represent because it makes our system look bad," said Manatee County Commissioner Reggie Bellamy.
It started when Lakewood Ranch developer Rex Jenson said that last week, he got a call from Gov. DeSantis. He says the governor asked him to identify two communities to get 3,000 doses of vaccine for a state clinic.
"He said, 'You have a lot of people in Lakewood Ranch and we'd like to pick a couple of neighborhoods in Lakewood Ranch and do it there,'" said Jensen. "The governor went on to explain how he'd like Manatee County to increase its penetration into the backlogged list."
Jensen said he called county commission chair Vanessa Baugh, who helped choose ZIP codes 34211 and 34202, which are just east of I-75 and straddle Myakka City Road.
It's also where her district is.
"It never occurred to me it was the wrong thing to do," said Baugh.
But several county commissioners are furious, pointing out that cases in those areas total a combined about 2,548, while in ZIP codes covering Palmetto and Samoset, for instance, like 34221 and 34208, cases total 8,250.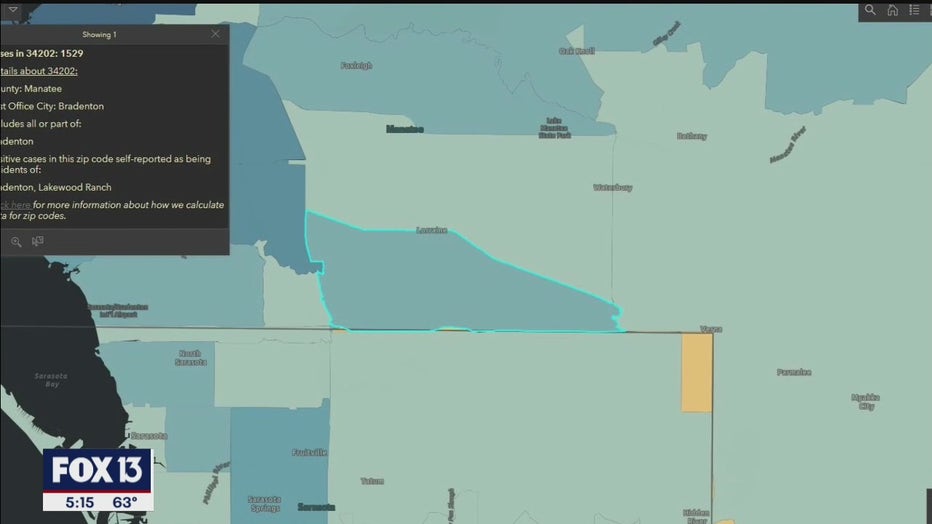 Screenshot of portion of Manatee County, including Lakewood Ranch
The first sets of ZIP codes are both over 90% white, with median incomes of over $100,000 a year.
The second set of ZIP codes are at least 15% Black with median incomes of under $60,000.
"We ask why we think there is a racism problem perceived in Manatee County? This adds to that argument," said commissioner Misty Servia. "You're taking the whitest and richest demographic in Manatee County and putting them ahead of everyone else."
While this is over a state-run clinic, commissioners used to seeing those on Manatee County's standby pool picked at random are still charging that Wednesday's clinic should have at least followed in that spirit, and at most, targeted areas with the direst needs.
"I realize ya'll don't like the way it happened. I am sorry," said Baugh. "But it is 3,000 people who will be taken off the list in Manatee County that get the vaccine. If there is a problem with that, I am sorry. But I jumped on it and I'd do it again." 
The vaccine supply being used is from a state stash, not from Manatee County's stash.
The governor plans to hold a press conference in Lakewood Ranch at 9:00 a.m. Wednesday, ahead of the clinic's scheduled start.