Boy mourning mother's death hits buzzer beater in basketball game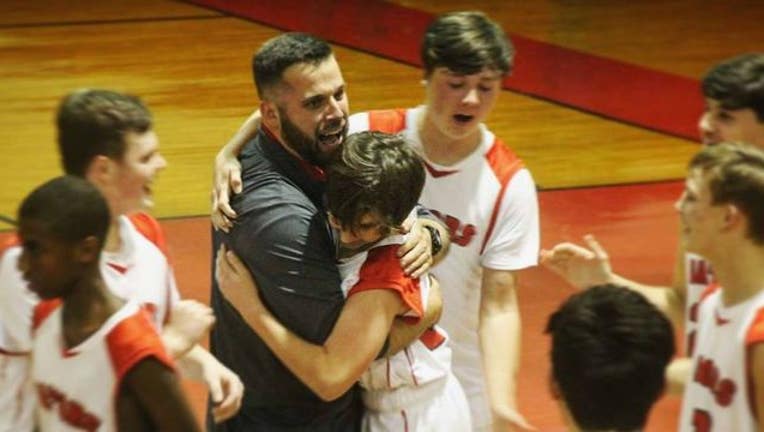 article
WEWAHITCHKA, Fla. (KTVU) - A boy scoring a buzzer beater in his junior varsity game brought a moment of much needed joy. 
Wewahitchka High School Basketball coach Kody Bidwell says Kyler Stoker had recently lost his mother unexpectedly but he continued to show up for every practice. Then Jan. 4th he showed up to their game "with resolve on his face," said Coach Bidwell. 
Coach Bidwell wrote, 
"The game was close all the way to the last few seconds. We were trailing by two points with just under three seconds to go. One of the boys made a great defensive play and stole the inbound pass. I called a timeout with just over one second left on the clock.
I was not thinking about the past week's events when we circled up to draw the last play of the game. I knew my point guard would be covered so we drew up a misdirection with a double screen to get Stoker open for one last shot.
The referee blew his whistle and my forward slapped the ball to start the play. We weren't playing to tie, we were looking for the win.
Stoker rolled off the screen and was open in the corner for half a second before the ball hit his hands. He never hesitated.
The ball went up, and the buzzer sounded. The crowd literally sucked the air out of the gym just before you heard the basketball strip through the net to put us up by one point. The gym erupted. The game winning three.
It was a few more seconds before the gravity of the situation hit me square in the chest.
A teenage boy who lost his mother a week before had just become a hero in that gym. I cried for the first time in a long time as I wrapped my arms around that young man. My varsity players ran out to celebrate with us and I realized that there is nothing more pure than a come from behind victory. In that second, nothing can bring you down.
To the underdogs who never give up and are never afraid to take that game winning shot, keep playing with a chip on your shoulder and run it 'til it works. Go Gators!"
Stoker's dad Keith wrote, "This is my son,I'm so proud of him and I know his mom is too!"
Bidwell says everyone watching the game was aware of Kyler mom's death. He says it's a very small town and a close community. They were thrilled to see Stocker help his team get the win.