Chick-fil-A Manager Prays with Homeless Man, Gives Him Warm Meal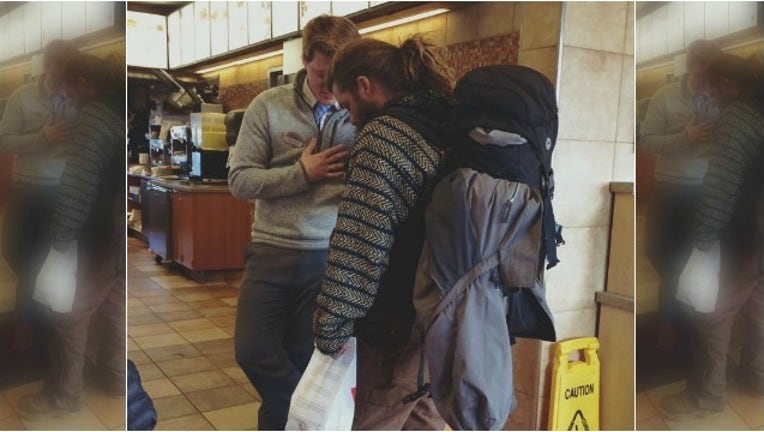 article
A Tennessee man and his daughter stopped by a Chick-fil-A and witnessed an incredible act of kindness.
Joey Mustain took his daughter, Stella, to the fast-food chain on Monday and after they finished eating, his daughter traded in her toy for an ice-cream cone. They sat in a booth as Stella ate her dessert and witnessed what Mustain is calling a "beautiful scene."
"A homeless traveler had walked in and asked if they had any extra food. Mud was wet and caked on his well-traveled shoes. His hair was matted, and his beard wasn't a statement as much as it was a necessity and a sign that he doesn't get to shave as often as most of us do," Mustain said.
The father said people near him kept their distance, but that didn't stop the homeless man from being kind.
"He spoke to people who reluctantly spoke back, and he smiled while he waited on a manager."
The manager told the stranger he'd love to give him a full, warm meal but had one requirement. The manager said he had to let him pray with him.
"After the homeless man agreed, there was no waiting for things to die down, there was no scooting anyone to the side. As busy as they were, the manager stopped then and there, laid his hand on the man, and proceeded to pray. I heard love in that prayer. The homeless man wasn't some untouchable stain on business. He was the reason that store opened its doors this morning (or any morning)."
Mustain said he asked Stella to watch them pray and she asked her dad what was happening. The dad told his daughter and then Stella bowed her head too. 
"I realized then and there that Chick-fil-A doesn't simply do business for profits, they truly use business to minister. In a time when companies are trying to win in the market by neutralizing any possibility of offense, CFA is thriving because they unwaveringly cling to their principles and purpose. I love teaching my daughter life lessons, and I also love being there to watch other Christians teach her life lessons. Thank you,Chick-fil-A, for taking care of the latter today."
His Facebook post has been shared more than 15,000 times as of Tuesday morning. 
APP USERS: Click here to view the post