Citrus, Hernando, Pasco counties brace for Michael's impact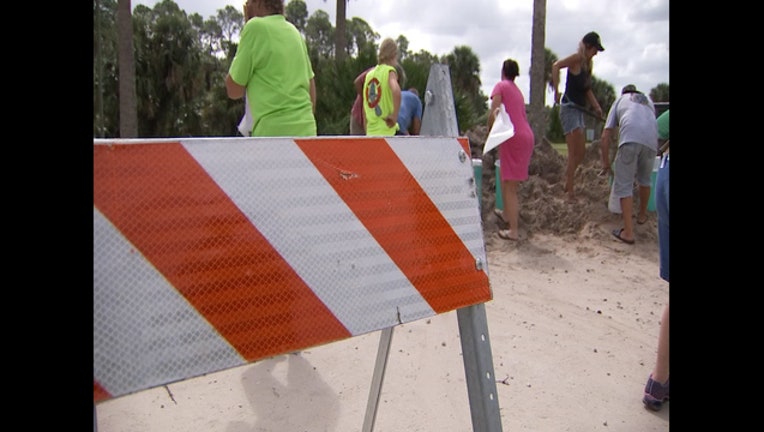 article
HERNANDO BEACH (FOX 13) - As Hurricane Michael inches closer to a Florida landfall, some counties in the Tampa Bay area are prepping for storm surge and flooding. 
LINK: Sandbags available ahead of Hurricane Michael
Tuesday afternoon's high tide was already bringing water into neighborhoods closest to the water as far south as Manatee County. Some folks in Citrus, Hernando, and Pasco counties said they were going to bed early so they could wake up during the next high tide, which will happen between 2 and 4 a.m. Wednesday.
Citrus County officials announced schools would be closed Wednesday, October 9 and ordered some people to evacuate. Shelters opened at 9 a.m. Tuesday for people who need a place to stay.
County officials said in addition to people living in low-lying areas, anyone who lives in mobile homes and RVs also needs to evacuate.
Tuesday night, the county was under tropical storm and storm surge warnings. Governor Rick Scott said Citrus County could see 6 to 8 feet of storm surge.
%INLINE%
Sandbags were available at the following locations:
- 4508 S. Grandmarch Ave. Homosassa (Near Grover Cleveland Blvd.)
- 7490 W. Gulf to Lake Hwy. Crystal River (Near Dan's Clam Stand - on opposite side of road) 
LINK: See more models on MyFoxHurricane.com
In Hernando County, about 8,500 residents are in evacuation zones A and B, where there's a voluntary evacuation order. 
One shelter opened at noon on Tuesday: The Enrichment Center, located at 800 John Gary Grubbs Boulevard in Brooksville. The shelter will house special needs, the general population and will be pet-friendly. Additional shelters will open as needed.
%INLINE%
The county was under a Tropical Storm Watch and Storm Surge Warning Tuesday evening. Hernando County schools and district offices will reopen Wednesday, October 10. Students whose families are impacted by evacuation measures will receive special consideration in regards to the attendance policy.
The following sandbagging locations are open on Tuesday, October 9:
- Anderson Snow Park, 1360 Anderson Snow Road in Spring Hill (Open from 8 a.m. until 6 p.m.)
- Linda Pederson Park, 6300 Shoal Line Boulevard near Hernando Beach (Open from 8 a.m. to 6 p.m.)
LINK: Michael pushes king tides even higher in Bay Area
Pasco County government officials recommended voluntary evacuations and issued a local state of emergency. 
The following residents should evacuate, according to county officials:
- Anyone living west of U.S. 19 in areas vulnerable to potential storm surge
- Special needs residents living west of U.S.
- Anyone living in low-lying areas along rivers or inland areas that have experienced flooding in the past
- Anyone living in a building that has experienced flooding following heavy rain events
About 70,000 residents live in the area recommended for evacuation. So far, one family was at the designated shelter. Officials readied high-water rescue vehicles Tuesday night, but again urged anyone in harm's way to get out now. 
%INLINE%
Anyone who cannot find shelter with neighbors, relatives or friends may evacuate directly to the Fasano Regional Hurricane Shelter, located at 11611 Denton Avenue in Hudson. It is a pet-friendly shelter. 
Transportation for residents needing special assistance to get to the shelter can call Pasco County Customer Service at (727) 847-2411.
The following self-serve sandbag locations are open 24 hours until further notice:
- Fire Station #17, 2951 Seven Springs Blvd, New Port Richey
- Veterans Memorial Park, 14333 Hicks Rd, Hudson
- Magnolia Valley Golf Course Clubhouse, 7223 Massachusetts Ave, New Port Richey
- C-Barn, 30908 Warder Road, San Antonio
%INLINE%