Cleaning up Kennedy on Tampa council members agenda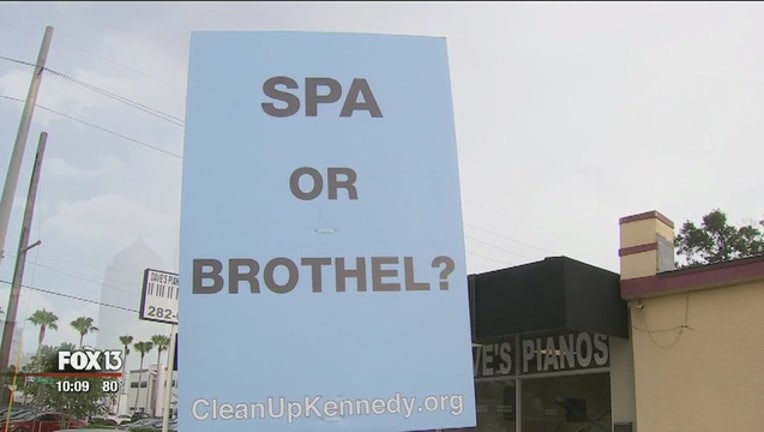 article
TAMPA (FOX 13) - There is speculation that the spas along Kennedy Boulevard are brothels in disguise, or scenes of human trafficking.
Tampa's city attorney is expected to give a presentation at Thursday's council meeting on the steps the city can take to regulate illegal massage and spa businesses.

Last Friday, a group called Clean Up Kennedy  lined Kennedy Boulevard just outside a massage parlor to picket the spa and others like it.
RELATED: Group wants police to Clean Up Kennedy, shut down spas

Up and down Kennedy Boulevard and on city blocks not far from Raymond James Stadium, plenty of businesses advertise spa and massage services. Drive by them at night and you might notice many keep some rather unconventional hours. According to protesters, there's much more than just back rubs happening inside some of these businesses, something reviews left on Google seem to corroborate.

"Many times they are not here under their own will, or they are tricked into coming to this country, thinking there's other work there," said protestor Joe Manson, who has learned the inner workings of the businesses from local human trafficking organizations.

Tampa police have raided these businesses in the past but the so-called "Asian Spas" have remained a fixture in Tampa. In 2012, council members tried to crack down on illegal massage parlors but ultimately deflected any meaningful action to the state. 

Thursday's meeting will begin at 9 a.m.