Contractors in North Port still working to clear debris 6 months after Hurricane Ian
NORTH PORT, Fla. - As Brian Raymond launches his boat from Marina Park in North Port, he knows to keep an eye on the water.
"Between North Port and Venice, there is a bunch of debris, most of it is from the trailer parks that are right on the water," he said.
It's not the pieces of metal scattered around the Myakka River that concern him. It's what he can't see under the water.
RELATED: Cleanup planned for North Port community still feeling impacts of Hurricane Ian
"There's whole trees and whole palm trees that are underwater, and when the tide is low, you can see 3–4 inches of it, but when the tide is up, you can't see it at all. You hit that with a boat, and you're done," he said.
The State now has contractors in North Port and Port Charlotte. They are working to remove the junk Hurricane Ian left behind.
Things like whole trees and mangled roofs are being pulled from the Myakka River and surrounding waterways.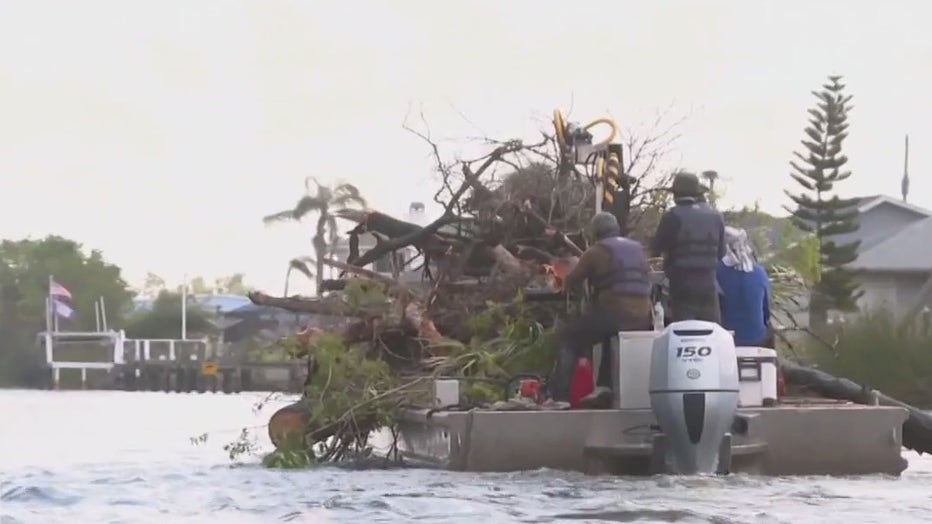 "We are going to try and get everything done, as much as we can before hurricane season starts in just about nine to ten weeks, but we will be working hard and from daylight sun up to sun down," said Kevin Guthrie, the Director of Florida Division of Emergency Management. It takes 50 trips with small barges to fill one truck.
READ: This protected species could halt repairs to Florida homes damaged by hurricanes Ian and Nicole
Fishermen and captains from Southwest Florida, sidelined by Hurricane Ian, have been working with contractors since the hurricane passed.
"Waterway debris takes a while. If you look at Lee County and those Bay areas, there's that we've been working for about five months, we are about 85% complete. We moved 52,000 truckloads of debris out of that area," said Guthrie.
They will continue working until the job is done.
"I'm glad because I've picked up quite a bunch of trash out of the water. I live off the water. I fish," said Raymond.
To report debris in any waterway from Hurricane Ian click here. 
The cleanup orders are due by March 29th.