Crackdown interferes with kids' autism therapy
TAMPA, Fla. - Parents across Florida say state Medicaid disrupted therapy for their kids with autism. The disruptions appear to relate to state efforts to address problems with fraud. 
State inspectors found pervasive fraud and abuse with autism therapy, particularly in South Florida. 
The state put a moratorium on new autism therapists, and it is re-examining the existing providers and patients to make sure they are legitimate. 
A new state contractor is approving treatment, and it made remaining authorizations for therapy expire on June 26. 
The process has caused lapses in service across the state, putting parents in distress, and frustrating providers like Adrianne Smith who runs Creative Behavior Solutions in Largo.  
"They should have had better guidelines to credential people in the first place and not penalize people who are moral and ethical and legal," said Smith. "They're going through each individual plan to reauthorize which is great. I think that's really important, but you can't do everyone on the same day and expect there to not be a lag in services."
Florida's Agency for Health Care Administration sent us a statement, noting it has not cut funding or coverage, and autism therapy is still available. AHCA wants people who can't get service to call its helpline or file a complaint.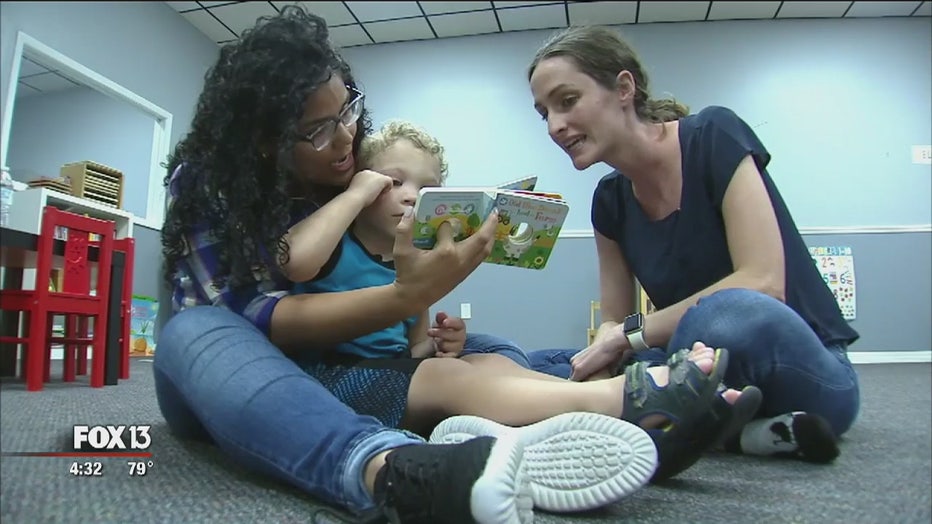 Here is the full state response:
Under the Florida Medicaid program, children have access to all medically necessary services, including applied behavioral analysis services.  If any recipient is having difficulty accessing services, please encourage them to contact the Florida Medicaid Helpline at 1-877-254-1055 or file a complaint using this online form. To be clear, there have been no cuts to funding or coverage for behavioral analysis services, and this service is still available.
Earlier this year, the Agency for Health Care Administration (Agency) reassessed its delivery of Medicaid behavior analysis (BA) services. The Agency determined through this reassessment that the authorization process for BA services needed to be changed and that a review of the providers furnishing these services needed to be conducted. There is also concern that the number of children receiving BA services is higher than expected, and the Agency is also conducting a review to ensure there is a medical/behavioral need for these services. 
BA is a service provided to children enrolled in Medicaid with significant behavioral issues (e.g., children with autism who are injuring themselves or others). It is usually provided in the child's home. It is critical that the Agency ensure the health, safety, and welfare of the children receiving this service. The Agency must also ensure that Medicaid services are being furnished by providers who are in full compliance with Florida Medicaid law and who are providing the services professionally and ethically. Between January 1, 2018, and June 7, 2018, 14,441 unique Medicaid recipients received BA services. 
In February 2018, the Agency for Health Care Administration (Agency) began transitioning its prior authorization process for BA services from Beacon Health Options to eQHealth Solutions. To inform providers and recipients of the change, the Agency mailed provider and recipient letters and issued electronic provider alerts. Throughout this transition, the Agency honored existing authorizations and has reimbursed for services approved by Beacon as long as the provider had received a letter with a prior authorization number.  
Effective March 26, 2018, providers could submit new requests for authorization to eQHealth, using an abbreviated process. During this initial authorization period, from March 26, 2018, through April 30, 2018, eQHealth issued administrative approval for up to 20 hours of BA services per week.  eQHealth then conducted prior authorization reviews for any service hours requested beyond 20 hours per week and provided an authorization or denial based on medical necessity.  Effective May 1, 2018, eQHealth began conducting prior authorization reviews on all authorization requests submitted to them regardless of the number of hours being requested per week.  eQHealth reviews each request and provides an approval or denial based on medical necessity.
As of June 27, 2018, the average time to process a completed prior authorization request for BA assessment services was 12 days.  The average time to process a completed prior authorization request for BA treatment services was 16 days.  These averages are a result of the transition from Beacon to eQHealth and the need for eQHealth to not only review new requests but any pending requests that Beacon had not completed.  In addition, approximately 400 new requests for services are submitted to eQHealth weekly for review. eQHealth is committed to reducing the average number of days for both assessment and treatment services and they continue those efforts daily.     
If a denial was issued, the requesting provider is able to request a reconsideration of the denial from eQHealth.  Additionally recipients continue to have the ability to request a fair hearing if eQHealth upholds the denial. The request for a fair hearing is submitted to the Agency's Office of Fair Hearings and the Office of Fair Hearing would then send the Notice of Hearing to the recipient once the request is processed. Information regarding how to file for a fair hearing is included on the denial notices that are sent to recipients. At this time, the Agency has received only a handful of requests for a fair hearing. Recipients who request a fair hearing will continue to receive services throughout the fair hearing.
If a provider is having difficulty with enrolling in Medicaid, or obtaining service authorizations, please encourage them to contact the Florida Medicaid Helpline at 1-877-254-1055 or file a complaint using this online form. Providers may also contact eQHealth at 1-855-444-3747 and via the web at http://fl.eqhs.org/ if they have questions regarding the authorization process.