Crews to begin surveying land around King High for possible forgotten cemetery
TAMPA, Fla. - Hillsborough County school officials began sweeping the ground at King High School to look for a forgotten African American Cemetery.
Crews used ground-penetrating radar on the property at 6815 North 56th Street in Tampa to survey the land for unmarked graves. Earlier this month, a tip from an independent historian to the Hillsborough County School District suggested that may be the case.
The radar, operated by geologists from the St. Petersburg-based firm GeoView will be able to tell if anything shaped like a coffin is underneath.
"I think there definitely is an obligation to determine their presence and honor them appropriately," said Michael Wightman, the head of GeoView.
Cameras recorded for a half-hour as Wightman operated the ground-penetrating radar. Similar technology was used in north Florida at the old Dozier School for Boys. 
PREVIOUS: Investigators search for possible forgotten cemetery near King High School
"What we were seeing is there is definite objects in the ground," he said.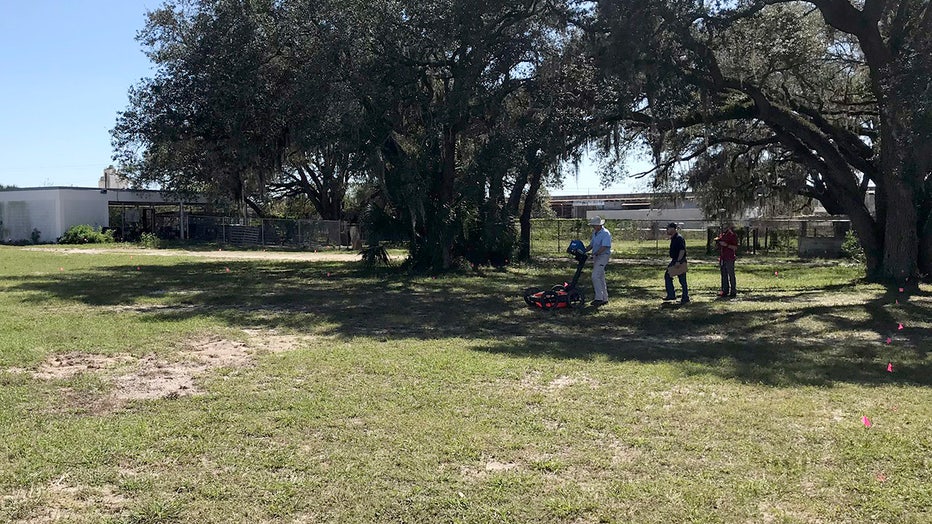 Teams will search the acre-and-a-half behind the football field bleachers. The area students used for agricultural projects is now cordoned off.
LINK: Tampa architect works to save forgotten cemeteries
An appraisal from 1959 states there's a potter's field located 470 feet east of the southeast corner of the school's property. Some speculate the bodies may have been moved around the same time. If the appraisal is wrong, the cemetery could be located along the area that borders North Street.
"With potter's fields, there's no casket, no headstones, they're simply put right into the ground," Tamara Shamburger, the school board chairperson, explained during a meeting.
The county reviewed documents, including deeds, aerial maps, an appraisal, and historical county and school records, and said there was conflicting information about the location of the possible cemetery.
"It is still a shame how this was erased," said Corries Culpepper, the head of safety for the school district. "It is important that if this is where it is, that our district is doing everything possible not to let this be something that is erased."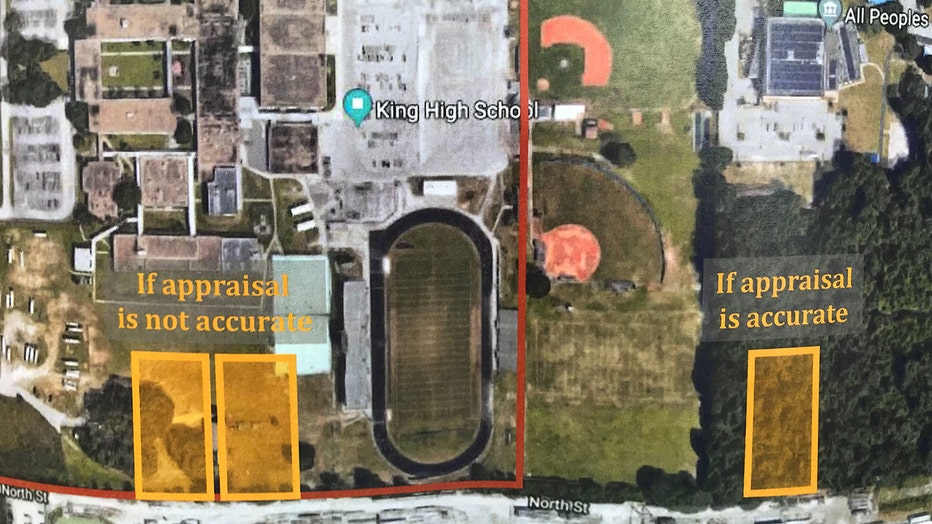 Just a few months ago, experts used radar to find 126 graves of a turn-of-the-century African American cemetery at the Robles Park housing complex.
Apartment buildings covered those graves in the 1950s; evidence of the white supremacy in Jim Crow's Florida.
Will the same be true at King High?
"These are people who, historically, were marginalized," said Wightman. "I think it is very important to go through and properly document where they were, where they were put to rest."
It will take three days to map the area and then a few more days to analyze the results and then experts will again begin the process on another area of the King High campus.