Donations accepted for Michael victims at Bay Area businesses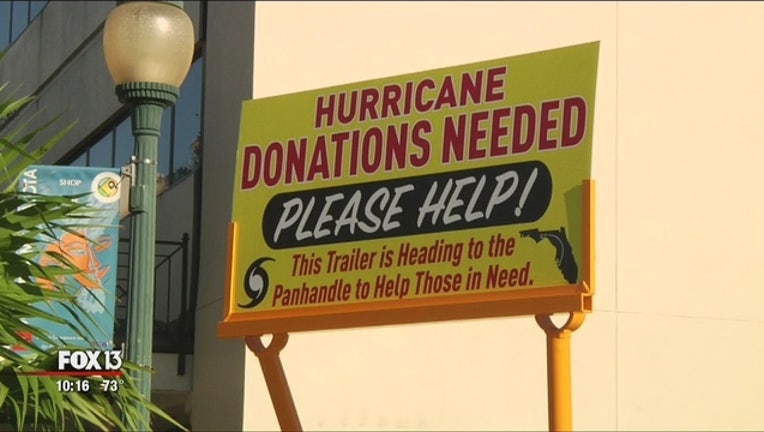 article
SARASOTA (FOX 13) - As thousands of Hurricane Michael victims return home to see what's left, a Sarasota man wants to help them.
Scott Gerber, the owner of Tube Dudes in downtown Sarasota, has set a 38-foot trailer at the front of his business for the community to drop off donations.
Gerber said he plans to drive them up to the Florida Panhandle Monday.
"Somebody asked me the other day, 'Why are you doing this?' and I'm like, 'Well, why not?" said Gerber. "These people have lost everything they need help, and I can do something, so I'm going to do it."
From diapers to dog food to hand sanitizer, the community has generously donated all kinds of items they believe would be useful to hurricane victims.
Gerber said someone who came across the donation drive reached in her bag and donated a bag of potato chips.
"I'm thinking how good is that bag of chips going to taste to somebody who's sitting on a chair, in their front yard, in front of what used to be their house," said Gerber.
The Panama City native said he wants to give back to his hometown in any way he can.
"It becomes very personal," he said.
Here are some other ways to help Hurricane Michael victims:
- Military Home Base is taking donations at two locations in Hillsborough County that will go toward military members and their families in the Panhandle.
- Fishhawk Storage in Lithia is accepting items from 10 a.m. to 6 p.m. Saturday.
You can also drop off supplies at E-Mortgage Management in Carrollwood. They will be accepting donations starting Monday through October 19.