Early voting begins in counties, on campuses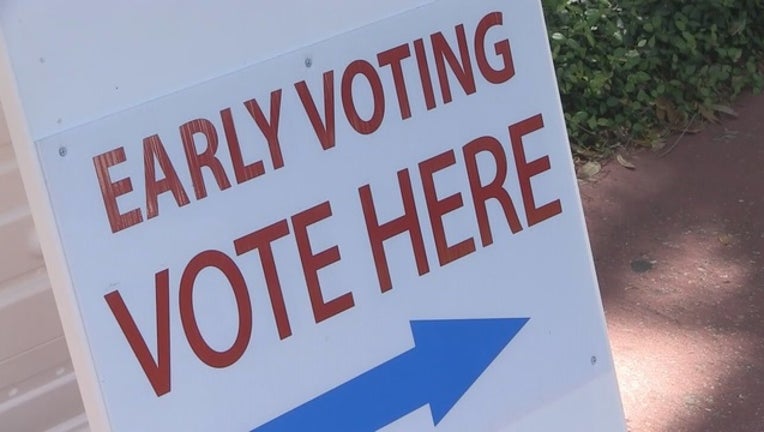 article
TALLAHASSEE (NSF) - With nearly 1 million votes already cast by mail for the Nov. 6 general election, early voting got underway Monday in almost half of the state's counties, including three recently ravaged by Hurricane Michael.
Counties throughout Florida are required to begin offering early voting on Saturday, but they had the option to start earlier in the week. The election also will include early voting on some college campuses, after a legal fight about the issue.
"A lot of students have limited resources when it comes to voting," Florida State University senior Kathryn Casello, president of the Campaign to Keep Guns off Campus at the school, said Monday. "Some of them might not have cars. Some of them might not feel comfortable going somewhere they might not have been before."
U.S. District Judge Mark Walker in July struck down a state policy he called "ham-handed" that barred early-voting sites on college and university campuses.
Besides Florida State University, early voting also began Monday at the University of North Florida, the University of West Florida, the University of Florida and Miami Dade College's North and Kendall campuses.
In all, 31 of the 67 counties started early voting Monday, including Calhoun, Gadsden and Liberty counties. Those counties were among the hardest-hit areas as the Category 4 Hurricane Michael roared through Northwest Florida on Oct. 10.
Last week, Gov. Rick Scott signed an executive order intended to help voters in eight counties that sustained heavy damage in the storm. The executive order included authorizing the extension of early voting in those counties until Election Day because of potential damage to voting precincts.
The other counties in the executive order --- Bay, Franklin, Gulf, Jackson and Washington --- begin early voting on Saturday, along with 19 other counties.
Another 17 counties will start offering early voting between Tuesday and Friday.
After starting, all counties are required to offer early voting through Nov. 3 and have the option of extending to Nov. 4. Bay, Calhoun, Franklin, Gadsden, Gulf and Jackson counties are also expected to take advantage of the executive order and extend beyond Nov. 4.
Secretary of State Ken Detzner on Monday called the early voting process "another convenient way (for voters) to cast their ballot and (it) reduces the potential for waiting in line on Election Day."
In the vote-by-mail process, 930,808 ballots had been cast as of Monday morning, while another 2.3 million ballots had been sent out.
Republicans had completed 408,778 vote-by-mail ballots, to 357,227 by Democrats, 159,855 by unaffiliated voters and 4,948 by third-party voters.
In a daily early-voting assessment, the Florida Chamber of Commerce noted independents in Broward, Hillsborough, Miami-Dade, Lee and Pinellas counties accounted for about 45 percent of the returns from voters without political affiliations.
"This is notable because it means that NPAs in conservative areas like Lee are returning ballots," a release from the chamber said. "Older blue collar (no party affiliation) voters are a key part of the Trump coalition that (Republican gubernatorial candidate Ron) DeSantis must turn out."
Also, the chamber noted that the Republicans' advantage over Democrats in returned ballots, on a percentage basis, is under the historic norm.
"Just like in 2016, the question is whether the Democrats have shifted their early and election day vote in favor of VBM (vote by mail)," the chamber release said.
Jefferson County Supervisor of Elections Marty Bishop on Monday pointed to convenience in suggesting people use early voting, which started Monday in his county.
"If you don't want to wait in line, with all of those amendments that are on the ballot and everything, we are encouraging the voters to pre-mark the sample ballots that they received," Bishop said. "They can bring those with them and just transfer them over to their real ballot and it'll go a lot quicker than trying to read the amendments in the booth."
Leon County has nine early-voting locations, including at Florida State University's Donald L. Tucker Civic Center. The location is separated by the Florida Supreme Court and the state Capitol from the Leon County Courthouse, where early voting is also offered.
A number of progressive groups including the Campaign to Keep Guns off Campus held a news conference Monday outside the civic center and are organizing a march Friday morning to highlight the voting option for students.
Jabari Knox, a third-year political science student at Florida A&M University and a participant in the news conference, said Monday the familiarity of an on-campus site should help draw more students, often first-time voters, to cast ballots.
"It's the sense of being on campus," Knox said. "You have food places around campus. You have food places that are off campus. But those places aren't as active as the cafeteria. … It's something I can just go to and something where I can feel safe at. I understand the courthouse or the library might be places that we can get out and search for. But this is something that we know. This is something familiar, this is home to us. So, why not bring the luxury of voting home."
In his July ruling, Walker, found that the Florida Department of State's prohibition against campus early-voting sites was "facially discriminatory on account of age," and that it "imposes significant burdens on plaintiffs' rights weighted against imprecise, insufficiently weighty government interests."
The lawsuit, filed by six University of Florida and Florida State University students, the League of Women Voters of Florida and the Andrew Goodman Foundation, hinged on a 2013 law that expanded early-voting sites and on a subsequent opinion by state Division of Elections Director Maria Matthews that interpreted the statute.
--- News Service Assignment Manager Tom Urban contributed to this story.