'Facts of Life' star Charlotte Rae dies at 92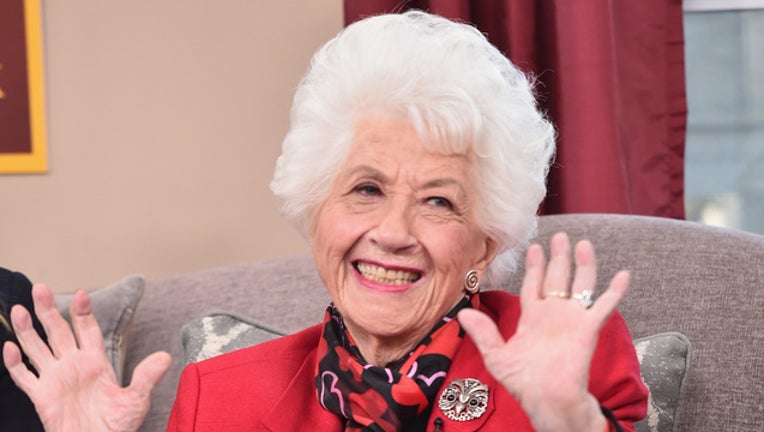 article
LOS ANGELES (AP) - Charlotte Rae, who played a wise and patient housemother to a brood of teenage girls on the long-running sitcom "The Facts of Life" during a career that encompassed many other TV roles as well as stage and film appearances, has died. She was 92.
Rae died at her Los Angeles home Sunday with her family at her side, said her publicist, Harlan Boll. A cause of death was not immediately available, but Rae was diagnosed last year with bone cancer after beating pancreatic cancer, Boll said.
She originated the character of Mrs. Garrett in 1978 during the first season of NBC's comedy "Diff'rent Strokes," then took Mrs. Garrett with her for the spinoff "Facts," which premiered the following season.
Initially set at a girls' boarding school, that NBC series ran for nine seasons. Rae left after its seventh year, however, explaining later, "I needed some time for the rest of my life."
The "Facts" role came to Rae after years of theater and television performances. She earned an Emmy nomination for the part, and she was a two-time Tony nominee for her work on Broadway.
Her last feature film credit was "Ricki and the Flash" with Meryl Streep in 2015. That same year she released her autobiography "The Facts of My Life," co-written by her son Larry Strauss.
Mindy Cohn and Kim Fields, who played members of Mrs. Garrett's brood, recalled her lovingly.
"She was my champion, a teacher, a proud example of the tenacity and perseverance needed to live as a creative, along with your talent and gifts. i love you char," Cohn, who played Natalie, posted on Instagram.
"Sorry, no words at the moment just love and tears... and yeah, smiles," tweeted Fields, who portrayed Tootie.
Tony Award-winning actress Audra McDonald tweeted: "She was so sweet, funny, wise, lovely, and brilliant. She will be so missed. Rest In Peace Sweet Charlotte Rae."
Todd Bridges, who was on "Diff'rent Strokes," said on Twitter that she was beloved by all her colleagues and that the show "would not have been the same without you."
Edna Garrett provided kind if sometimes wry counsel to her "Facts of Life" charges (which, besides Cohn and Fields, included Lisa Whelchel, Nancy McKeon and Molly Ringwald) on a series that was praised for dealing with such sensitive issues of teenhood as sex, drug use, eating disorders and peer pressure.
"I wanted to bring in as much humanity as possible, as well as the humor," Rae told The Associated Press early in the show's run. "I don't want her to be Polly Perfect, because she must have human failings and make mistakes."
Her own life was marked by tragedy, Rae told the AP in a 2015 interview. She said the "most devastating thing" she faced was her son Andy Strauss' diagnosis of autism at a time when there was far less understanding of or attention to the disorder. Andy died in his mid-40s of a heart attack in 1999.
Born Charlotte Rae Lubotsky in Milwaukee, on April 22, 1926, she had studied drama at Northwestern University, then moved to New York where, despite early plans to be a "serious" actress, she quickly found work doing satirical sketches in Greenwich Village clubs.
It was there that Broadway producers, who frequented such bistros, discovered her, leading to her first Broadway musical, called "Three Wishes for Jamie," in 1952. A few years later, she originated the role of Mammy Yokum in the Broadway musical "Li'l Abner."
Rae made numerous TV appearances in 1950s drama anthologies including "The U.S. Steel Hour," ''Playhouse 90" and "Armstrong Circle Theater," sharing the black-and-white screen with such actors as Zero Mostel, Art Carney and Gertrude Berg.
In 1961 she became a semi-regular on the New York-based cop sitcom "Car 54, Where Are You?" as the wife of the NYPD officer played by future "Munsters" grandpa Al Lewis.
She received Tony nominations in 1966 for "Pickwick" and in 1969 for "Morning, Noon and Night."
In the early 1970s, Rae moved to Los Angeles with her then-husband, composer and music editor John Strauss, and their sons Andy and Larry. There she was cast in the short-lived Norman Lear sitcom "Hot L Baltimore" and a similarly unsuccessful variety show hosted by Rich Little before scoring "Diff'rent Strokes," on which Mrs. Garrett was the family's housekeeper.
Rae stayed busy with film and stage appearances, including 1971's "Bananas" from Woody Allen and 1979's "Hair." Other credits included the 2008 comedy "You Don't Mess with the Zohan" and the 2012 thriller "Love Sick Love."
In 2005, at age 79, she appeared in a new comedy, "Leading Ladies," at Ford's Theater in Washington.
In 2013, Rae went public with an account of why her marriage to Strauss had ended in the mid-1970s after a quarter-century. She said he disclosed to her he was bisexual and wanted an open marriage. Strauss died in 2011.
In addition to son Larry, she is survived by sister Miriam Guten and three grandchildren.
Services were pending, Boll said.