FEMA delays test of new presidential push alerts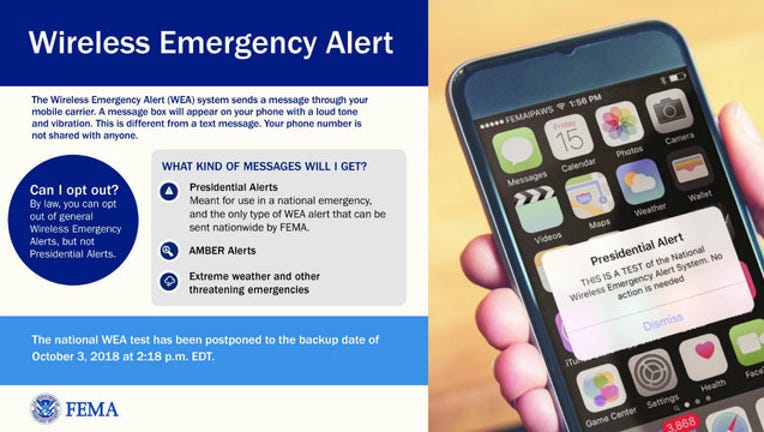 article
TAMPA (FOX 13) - You could be getting a message from the president straight to your phone under a new alert system. FEMA will test out its presidential alert in a couple of weeks.
FEMA was going to send out the test alert Thursday, but pushed it back because of its response to Hurricane Florence.
Everyone already receives emergency weather alerts and Amber alerts on smartphones, even though some people choose turn those off. Pinellas County Emergency Management said that's not something locals should do.
"So if you're by yourself and you have no other modality to receive those messages, then you will not get those and we only send those messages when it's really needed," Joe Borries, the Pinellas County emergency management operations manager.
On October 3, a new kind of alert will be tested for the first time, the presidential alert. It will go out to nearly every phone across the country all at once. Emergency management agencies across the country got word that FEMA would test out the presidential alert. 
"The presidential alerts are used to warn the public about an impending attack or some other type of missile crisis or accidental release of a missile," said Borries.
It will allow the president to send a message to the country on any public safety emergency, like natural disasters or terrorist threats.
"The thing that might concern me is that the terrorists could get that alert too and try and change their strategy," said Diane Litt, a Pinellas County resident.
The message will pop up on your phone with a loud tone and vibration with the header saying "presidential alert" and the body of the message reading "THIS IS A TEST of the National Wireless Emergency Alert System. No action is needed." It's something you cannot turn off or opt out of.
"Well, I think it's a good idea. with all the heightened security that's going on these days, I think the more informed we are, the better it is," said Cody Formilan, a Hillsborough County resident.
The message will be sent out using the Wireless Emergency Alert system, which is how we get localized weather and amber alerts. FEMA said the presidential alerts can only be used for national emergencies.