FOX 13 Investigates: Searching for Lucinda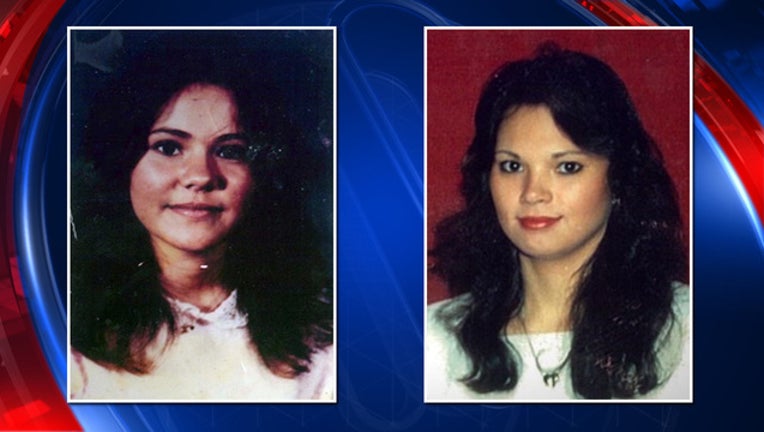 article
TAMPA (FOX 13) - Deanna Huels had never known her mother. She was an infant when Lucinda Huels, just 17 years old, vanished from a Tampa tavern near Busch Gardens in 1984. But her mother's portrait – displayed in their home and on missing posters, taxi cabs and television spots for lost children – was an image she knew well.
She did not, however, know her mother's voice. Then, one day in 1992, the phone rang. 8-year-old Deanna had just gotten home from school.
"She asked me who this was," Deanna recalls. "I told her, 'Deanna.' She said, 'Oh, my goodness, my baby girl. This is your mother.'"
Deanna remembers stumbling for words, telling the woman on the other end of the phone that it wasn't funny -- that her mother was missing.  
"I think my granny overheard that and kinda of took the phone and took over from there," Deanna said.
It was the news the family had been hoping for ever since Lucinda went missing back in October 1984. She told the family she'd run away and hitchhiked that night, overwhelmed by the pressures of being a young wife and mother of two. While everyone feared the worst – that she may have been another victim of Tampa serial killer Bobby Joe Long, who was arrested three weeks after her disappearance – she told them she had really just been waitressing in Memphis, using the name "Amanda."
In 1992, WTVT interviewed her husband, Larry, after he found out Lucinda was alive and coming home. 
"To be honest, I'm not thinking about why, right now. That's a secondary issue," Larry said. "I'm just thinking, I'm glad … " "That she's alive?" the reporter asked. "Right," he said.
Lucinda's younger sister, Katrina Hart, was in her early 20s when she received the news. 
"It was exciting, emotional, and scary. Eight years had passed, and you just have questions that go through your head: What were you doing? Why did you do it?" Hart remembers. "But we wanted to fix it. We wanted to make our family work."
In April 1992, they had their wife, mother, daughter, and sister back. But six months later, detectives and family members would find out the woman who had become part of the family was not, in fact, Lucinda. 
If you're wondering how that could have happened, there are few things Lucinda's family would tell you. They wanted her to be alive more than anything. She seemed to know a lot about the family. And she looked like Lucinda. Eerily like Lucinda. So much so that some in the family have wondered if, somehow, it was really her. 
"I remember as a kid, feeling that connection, that bond," said Lucinda's son Tony, Deanna's older brother.  Now 33 and living in Ohio, he was 10 when he thought his mother had returned home. "I always felt it was her -- even now."
THE HOMECOMING
Newspaper articles across the South carried the story of the missing woman who returned home to Tampa. According to the reports, Lucinda had hitchhiked that night, living in Memphis before moving to Arkansas, where she met and married a young man who became suspicious of his new wife, who went by the name "Amanda." He went to police.  
It was one of Waylon Stepp's first cases as a detective for the police department in Springdale, Arkansas.
"This case kind of fell in my lap," said Stepp, who is now retired and lives in Iowa. "It was strange. It really was."
Stepp remembers Amanda's husband believed she had some kind of secret, though he wasn't sure what it was. He told Stepp she wouldn't tell him anything about her family or her past. She didn't want her picture taken.
"He knew she had some kind of secret but wasn't sure what," Stepp recalled.  
Newspaper stories at the time reported that the husband's suspicions grew when someone told him they'd seen someone that looked just like his wife on the TV show Unsolved Mysteries. Stepp recalls that the husband had actually seen Lucinda's story on the broadcast and thought she looked like Amanda.  (A spokesperson for the show says Lucinda was never on the broadcast.)
Either way, the suspicions were enough for Amanda's mother-in-law to start calling toll-free hotlines for lost children, asking for information about anyone that fit Amanda's description. That's when she received Lucinda's photo in the mail and believed it was a match, but Amanda denied it, according to newspaper reports of the homecoming.   
Stepp brought Amanda in for questioning. On his desk, he had a case file with information about Lucinda's disappearance, a photo and a written description of a distinct mark on her leg. He told her that if she didn't have it, they could clear things up pretty quickly. 
"We had a female officer that took her into her private office and observed it," Stepp said. He confronted Amanda with the findings - that she also had a distinct mark on her leg. (Stepp says they did not have a picture of Lucinda's leg to use for comparison.) 
"That's when she said, 'OK, you got me. I'm Lucinda Huels,'" he remembered. "Then it turned into the tears of trying to explain why she ran away."
"It was very convincing because it came across as 'I've been lying; this is who I am. You caught me and I can't lie anymore.' That's exactly how it came across," he said.  
Detective Gary Onheiser with the Hillsborough County Sheriff's Office was also convinced after traveling to Arkansas to interview her in person. (Onheiser declined an interview.) Larry and Hart drove to Arkansas to pick her up. "We didn't question it because she said she was her," Hart said.
The family remembers that she looked like she hadn't aged at all. She didn't have a gap in her front teeth anymore, but she told them she'd gotten her teeth fixed.  Her chin had a different shape, but she told them she'd had jaw reconstruction as a result of a car accident.
Those who had doubts were reluctant to say anything. Lucinda's brother, Rickey Mauldin, was one of them.
"I looked at her and said [to myself], 'Nope, y'all got the wrong child,'" Mauldin remembers. "I kept my mouth shut." 
He says his mother believed she finally had her daughter back, and he  didn't want to break her heart. He also wanted to figure out why Amanda was there.
"I wanted to stand back and watch: Is she here to rob people? Take advantage?" he remembered.  
Candy LaSarge, Lucinda's best friend from childhood, recalls going to the Huels' home to see Lucinda for the first time in eight years.
"I was excited until I had gotten there. To me, it just didn't feel like it was Lucinda," she said. "There was no connection there."
LaSarge remembers going through an old photo album on that first visit. The woman everyone called Lucinda seemed to have some recognition of the events and people in the photos, which LaSarge wonders about to this day: Had someone already gone through the album with her? Otherwise, how did she know?
Nonetheless, LaSarge remembers feeling sad when she left the house, unable to shake the feeling that something wasn't right. Larry and the woman called Lucinda attended LaSarge's wedding that summer, but Candy distanced herself from the situation.  
"I felt bad for everybody," she said. "I wanted to tell Larry that I just didn't believe it was her. But I didn't want to break anybody's heart because they were just so happy that Lucinda was home." (Larry Huels died in 2010.)
A few months later, as the family was learning to become a family again, Stepp got another call. Two people who'd seen news stories of Lucinda's homecoming said they believed the woman from Arkansas was actually their niece, Amanda, who had run away from home. 
Detectives contacted Larry, who expressed that he was "having some doubt that the woman he brought home from Arkansas was really his wife," according to an HCSO report.  They arranged a meeting between the two people claiming to be her relatives and the woman people now knew as Lucinda at the HCSO office.
In the report about the visit, Onheiser wrote, "Writer was very observant and saw no recognition on the part of Lucinda when she came face-to-face" with the two. "When questioned, Lucinda steadfastly denied being Amanda."
Detectives then told Larry that the woman and the two children would need to take blood tests. 
"I remember it coming up that we needed blood tests to make sure it was her. I remember thinking, 'Well, why do we need to do that?'" said Tony. "[I was] told that it's just for records purposes."  
One of the HCSO reports notes a blood test was delayed because Lucinda was in a car accident. The family says her car flipped and landed in a ravine, but she escaped with minor injuries. She reported that someone in a white van tried to run her off the road.
The family remembers their home was vandalized shortly afterward. The totaled car in the driveway was tagged with the words "Strike One." A shed in the back was tagged with the words "Strike Two," though it wasn't clear why. The tires of their vehicles were slashed, too.
"It was like somebody was trying to hide something, and I told Larry that it was so strange," LaSarge said.  "He was concerned that somebody was out to hurt her because of the way it all happened." 
Stepp believes Amanda may have wrecked the car and vandalized the house in an effort to stay with the family.   
"She was desperate to get these people to believe it was her and stay there," he said. "People in that position have to create all that chaos to keep people close to them."
Neither Stepp nor the family have been able to figure out how she seemed to know so much about them.
Stepp says there may have been a point at the beginning in which he left the room and Amanda could have looked at the case file on his desk, but he says it contained only limited information. He doesn't understand how she seemed to know enough to convince him - as well as Florida detectives and the family - that she was Lucinda.   
"There was no internet as we know it today. Someone would have to make lots and lots of phone calls to piece all that information together," Stepp said.
"One theory we had was that, possibly, when they were living in the underground culture, that they ran into each other and realized how much they looked alike," he offered.
A more likely theory, he says: "There were lots of people who wanted to believe it, including myself. I wanted to believe a girl who was presumed dead was alive."
Eventually, the blood tests were done and the family received the devastating news: The woman who had become part of the family was not Lucinda.
LOSING "LUCINDA" AGAIN
The undoing of the miracle that never really happened wasn't in newspapers or on television. But HCSO records obtained by the family give a glimpse of what unfolded next.
In a September 1992 report, Onheiser said he was contacted by an employee of the Shands Teaching Hospital Blood Bank, who told him results of the blood test showed the "female down here was not Lucinda Huels, or the mother of the two Huels children."
Onheiser asked Larry to bring the woman he had believed was his wife to the station. That's where she admitted she was, in fact, a woman named Amanda -- not Lucinda. 
"She stated she was sorry for the hurt that she has caused the Huels family, especially the two children. She stated she had really grown to love the two Huels children over the past several months," Onheiser wrote.
Amanda boarded a plane with her aunt and went back to Arkansas.
"Everyone in the Huels family is hurt and upset about the outcome, but reality is beginning to set in and the family has indicated they will weather the storm," Onheiser wrote in the report. "Tinze Lucinda Huels is once again in FCIC/NCIC an active missing person with foul play suspected."  
"We had to start all over again with no mom. My dad had to have no wife again. My granny had to have one less daughter again. And it was sad a really long time," Deanna said.
WHAT LARRY KNEW
Larry was the only family member who had a chance to say goodbye. While Amanda was there - at least for a while - he seemed to believe he had Lucinda back. It's not clear when he knew she wasn't his wife.  
He never remarried or even dated after Lucinda. He wouldn't talk to family members about what happened with Amanda.
Tony recalls only one conversation in which his father opened up about it. Tony asked why it had gone on for so many months. 
"He explained it like, it was this process we had to go through so people didn't get hurt more than they needed to, because so many people believed it was her," Tony said.   
He wouldn't talk about Lucinda much, either.
Many in the family wonder if there was more that he knew about the circumstances of Lucinda's disappearance, though they don't believe he did anything criminal. 
"He loved my mom so much," Deanna said. "When Amanda came back [as Lucinda], you could tell he was extremely happy, and he was extremely hurt when it wasn't her." 
The circumstances of Amanda's departure from the family, and Larry's reluctance to talk about Lucinda and Amanda, made Tony wonder if she was Lucinda and had gone back into protective custody after receiving the apparent threats that were tagged on the family's home.
"It was always that feeling that there was a piece of information that was out there that was being withheld," he said. "That's why I always had the sense she was in Witness Protection."
SEARCHING FOR AMANDA
Family members say they hold no ill will toward Amanda. They believe she was lost, searching for a family and a place to belong when she saw an opportunity with the Huels.
"She was a part of our family for a little while and, I mean, we accepted her. We loved her," Hart said.
Amanda did not respond to interview requests. FOX 13 is not using her last name because she was never charged with a crime.
"Whether she's my mom or not, that's the only figure of a mother I have any memory of," Tony said. "If it was just Amanda, and she was just lost and confused and thought maybe it would be a fresh start for her -- really, I'd like to find out." 
Deanna and Tony had not been able to find Amanda in the years since she left. Using contact information FOX 13 obtained while researching this story, they each contacted her and asked if she would talk.
On Monday, for the first time since 1992, they both heard from Amanda. She told them she did not want to be interviewed, but said it was fine for them to share details of their messages. 
"I asked if she was my mother. She said, 'No.' I asked if she knew my mother. She said, 'No, but I wish I did,'" Tony said. The two communicated over Facebook Messenger. 
Tony said he hasn't asked her any other questions about her time with the family. He said it's been difficult to process the messages. When he first reached out to Amanda, he believed it was possible he was contacting his mother.
"Even though she's not my mother, I think we may become part of each other's lives again," he said.  
In an email to Deanna, Amanda apologized for the hurt she'd caused. She said she didn't know the two of them had wondered about her through the years and that she would answer any questions they had.
Deanna has lots of questions. They are setting up a time to talk on the phone.
"It's bittersweet," Deanna said in a phone interview on Tuesday. "It's good to hear from her, to at least get that part of the closure, knowing now that she's definitely not our mother."
WHAT HAPPENED TO LUCINDA
For the family, it felt like losing Lucinda a second time. The loss also meant starting over with their quest to find out what happened to her. 
On the night of October 26, 1984, Lucinda told Larry she was going to the laundromat. She was seen at Char-Pal Lounge with her friends later that night. As night turned to day, her car was the sole vehicle in the parking lot.
It was unlocked. There was a basket of clean, folded laundry inside.
Char-Pal Lounge was no place for a 17-year-old. In the 1970s, it figured into an extortion case against Jimmy Hill and other mobsters. They were accused of beating another bar owner over a gambling debt in the back room of the tavern.  
It's a brief scene in the movie Goodfellas, followed by the scene in which the mobsters threatened to throw the man to the lions at Lowry Park Zoo. In real life, the man was threatened at Busch Gardens, the author of the screenplay said in an interview years later.
Busch Gardens was nearby. It's where Lucinda's purse was found days later in a men's bathroom of what was then the zoo campground.  Inside: money, her driver's license and, curiously, her marriage certificate.
Records from the missing person's case indicate HCSO detectives interviewed several people who were at the bar that night; everyone seemed to say they saw her with someone else when they left.
Several witnesses told police they saw her talking with a man who owned a sign business about a job. He and another man were actually arrested in the early hours of the following morning, before Lucinda was reported missing. Police had found the two pulled over on the side of the road, asleep, and were arrested for possession of marijuana and a concealed weapon. Records show the sign business owner was later questioned twice about Lucinda's disappearance; he denied knowing anything about it.
It's not clear whether detectives ever pursued him as a suspect after that. Other leads grew cold.
Before Amanda's story, no one in the family believed it was probable that Lucinda took off on her own. She'd been planning Tony's second birthday party at the time of her disappearance. They also wonder why she'd leave her purse and money if she was trying to run away.
The most common theory – promulgated on missing children's websites that list Lucinda's story – is that she was another victim of Bobby Joe Long, the serial killer who had terrorized Tampa Bay that year. Long was arrested three weeks after she went missing and later confessed to brutally killing 10 women. Their bodies were found around Hillsborough County.
Since Lucinda's body was never found, the family does not believe it's  likely that's what happened, either. But they want to know either way.
"Nobody wants to ever hear that your mom was murdered," Deanna said. "But, at the same time it would be some type of closure."
Long is on Florida's death row. While researching this story, this reporter sent Long a letter and copy of a missing poster, asking if he knew anything about Lucinda's disappearance.
Long wrote back: "I'm sorry to hear about the Huels girl. Truly, I am. And, if you think you can help them by sharing this with them, please feel free to do so. I know nothing about that matter and had nothing to do with it. I don't lie. I don't have to. That's the truth of it.
"It's not a good feeling, knowing how many people I've hurt, directly or indirectly. I wish I could help the Huels family find closure, at least. But I can't. I have no knowledge of that matter. If I did, I'd tell them. I don't want to ever be the source, or focus of people's pain, again."   
"I hope he is telling the truth," Katrina said about the letter.
THE SEARCH FOR CLOSURE
Mauldin says unanswered questions are an unquenchable grief. 
"Either way she's OK. If she's living a good life with somebody else, that's great. If she's dead, she's with the Lord; that's great, too," he said. "But it's the not knowing."
Hart describes the effects of living without closure as moments in time: Following a car down the interstate for a second glance of the driver because it looked like Lucinda. Looking for her in crowds. "Walking through the mall, looking at someone and you follow them because you think, wait a minute, it looks like that could be her," she said.   
There are at least 25 children from Florida who during the 1980s and have never been found, according to data from the National Center for Missing and Exploited Children.
The age-progressed photos for each child are sober renderings: The portraits are either sad reminders of what could have been or a window into a life that is, for whatever reason, being lived out somewhere else – somewhere apart from the people and place from which they vanished. 
The Huels family doesn't know what to think when they see Lucinda's photos, but they report seeing them when they are least expecting it.
Tony remembers an incident a few years ago, when he went to a friend's house to install a TV.  "As soon as we plugged in the TV and turned the TV on, her picture was there: 'Missing Children. Have you seen Lucinda Huels?' I hadn't seen that since I was a kid," he said. 
In April, Deanna was browsing through Facebook posts on a local yard sale group. She was stunned by what she saw: A woman selling a TV happened to take the picture right as Lucinda's picture was on the screen. She sent it to Hart.
"It was the Missing Children's picture and I was like, 'What? Are you kidding me?'" Hard said. "I wrote the girl and I said, 'You know, the picture there on your TV screen is my sister.' She said, 'You're kidding me.'"
It's impossible to quantify the odds that someone would take a photo of the TV they want to sell at the exact moment Lucinda's picture was shown and post it in a Facebook group in which the family would actually see it. But the odds of things happening aren't exactly a predictor for the Huels family.  
Hart doesn't call it chance.  "God is still working; He's still looking," she said. "There still might be an answer."  
The family still lives in expectation that they could get the phone call they've been waiting for -- an answer to unanswered questions about what happened to Lucinda. After all, it happened before.
If you have something you'd like FOX 13 Investigates to look into, contact investigates@wtvt.com.