Frustrated parents and teachers want simultaneous teaching to end
LARGO, Fla. - Frustration from teachers, parents and students has Pinellas Schools going back to the bargaining table with the teacher's association.  
They are upset over teachers doubled up on teaching in-person and online classes at the same time.  
The district says 52% of Pinellas classrooms are doubled up like this. Nancy Velardi, president of the Pinellas Classroom Teachers Association, told FOX 13 they were originally told the doubled-up method would be done in rare circumstances. 
They meet with the district Monday afternoon and will ask for simultaneous teaching to stop altogether – or that teachers doing so be compensated with a stipend.  
"Their planning is doubled, their workload is doubled, and they can't pay attention to either set of students," Velardi said Wednesday.  
Kevin Hendrick, the associate superintendent of Pinellas Schools, says this is the compromise to having more teachers and students at home -- safely.  
"The math doesn't work out in any situation to have lower numbers face to face, a reasonable number online, and have everything perfect," Hendrick told FOX 13.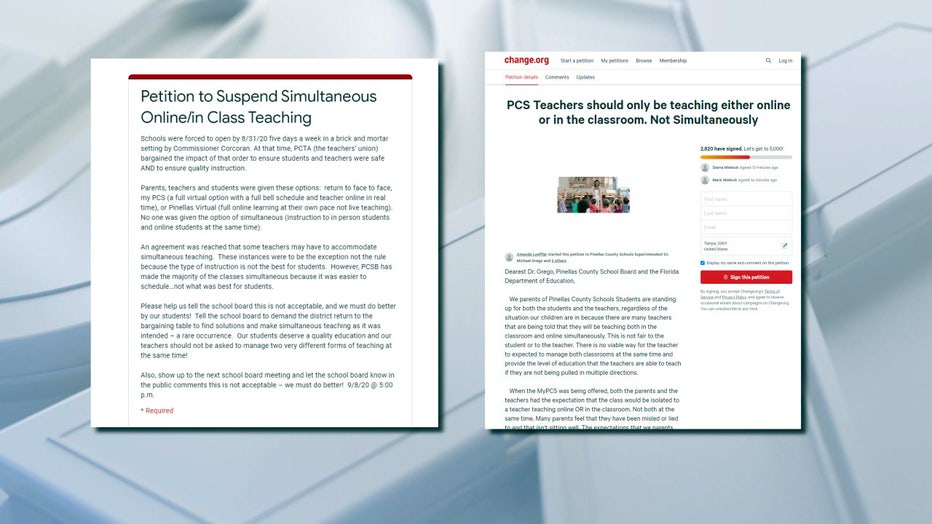 Teachers and parents right now have two petitions wanting the method stopped or at least reduced.   
Amanda Loeffler started one of the petitions after seeing her children struggle.  
"There's times where there's nothing for them to do or there's times where they are frustrated," Loeffler said.  
The teacher's association will sit down at the negotiating table with the Pinellas School district Monday afternoon.