Gas pump skimming suspects caught in Gibsonton with 112 counterfeit cards, deputies say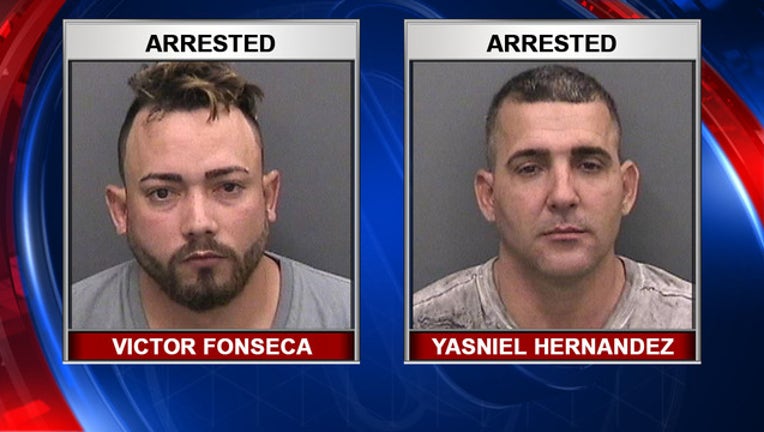 GIBSONTON, Fla. (FOX 13) - Two men were caught with over 100 counterfeit credit cards used to buy fuel at gas stations in throughout Florida, deputies said.
Investigators from the Florida Department of Law Enforcement, the Hillsborough County Sheriff's Office and Polk County Sheriff's Office worked together to identify the suspects as 27-year-old Victor Mendoza Fonseca and 42-year-old Yasniel Rodriguez Hernandez.
In the beginning of the investigation, they said they knew at least two suspects were traveling within the state to purchase large amounts of diesel fuel using stolen and fraudulent credit cards. The credit card information was obtained through gas station skimmers, officials added.
Eventually, a pattern of the  suspects' route and schedule were developed by FDLE investigators. On Monday, Hillsborough County detectives began monitoring the Circle K gas station at 9812 Gibsonton Drive. Fonseca and Hernandez were spotted in a red Ford F-350 and a white Isuzu box truck.
Officials said both suspects were seen using a stolen credit card to obtain more diesel fuel, which was stored in tanks and bladders inside the cargo areas of both vehicles. Both were arrested, and authorities said the suspects were in possession of 112 counterfeit and cloned credit cards. 
Both face several charges, including trafficking in counterfeit credit cards. Hillsborough County officials said further investigations will be done to identify the credit card victims. Additional charges might be added.