Gov. DeSantis: Migrant flights help Texas combat border crisis
TALLAHASSEE, Fla. - Gov. Ron DeSantis on Wednesday called for states to be "more aggressive" in immigration enforcement, as California officials continued investigating potential criminal wrongdoing after Florida directed flights of migrants from Texas to Sacramento.
DeSantis, making his first trip to the U.S. southwest border since announcing his candidacy for president, described the use of Florida tax dollars to pay for the migrant flights as helping Texas combat a border crisis.
"We have an ability to do things, like support police and help out Texas, because we have a good managed state," DeSantis said during an event in Sierra Vista, Ariz., that focused on his opposition to Biden administration immigration policies.
RELATED: Florida admits to coordinating migrant flights from Texas to California: 'They wanted to go'
"This (money for migrant flights) is something that's been in the budget now for, I think, for two years," DeSantis added. "If a sheriff asked for our support in Texas, we do this as an American problem. We don't do it just as a Texas problem, as we think we're all in this together."
A Florida Division of Emergency Management spokeswoman on Tuesday confirmed the state's role in directing flights of migrants Friday and Monday from El Paso to Sacramento.
While the spokeswoman contended the migrants volunteered to be relocated, the flights have drawn heavy criticism from California officials, who have launched investigations and used words such as "kidnapping."
California Gov. Gavin Newsom, appearing Wednesday on NBC's "Today Show," questioned DeSantis' use of Florida tax dollars to move people like "pawns" after they never were in Florida.
PREVIOUS: Second flight carrying migrants lands in Sacramento; California officials say Florida set up travel
"We mean business," Newsom said. "Ron DeSantis should know this. And everyone that's been part of this, and they have more direct accountability and culpability, should know we mean business and we're not backing away from getting the facts and holding those accountable if they broke the laws of the state of California."
Newsom, who on Monday described DeSantis in a Twitter post as a "small, pathetic man," also said that description was "generous."
California Attorney General Rob Bonta on Tuesday said he was glad Florida accepted the "blame" for the flights. But Bonta pledged to move forward with an investigation.
"The state of Florida's propaganda machine is in overdrive right now," Bonta told reporters. "Look at how many times they use the word 'voluntary.' Look at the title of the program. Its name is called the 'Voluntary Transportation Program.' They really want everyone to think that it's voluntary. They really, really do."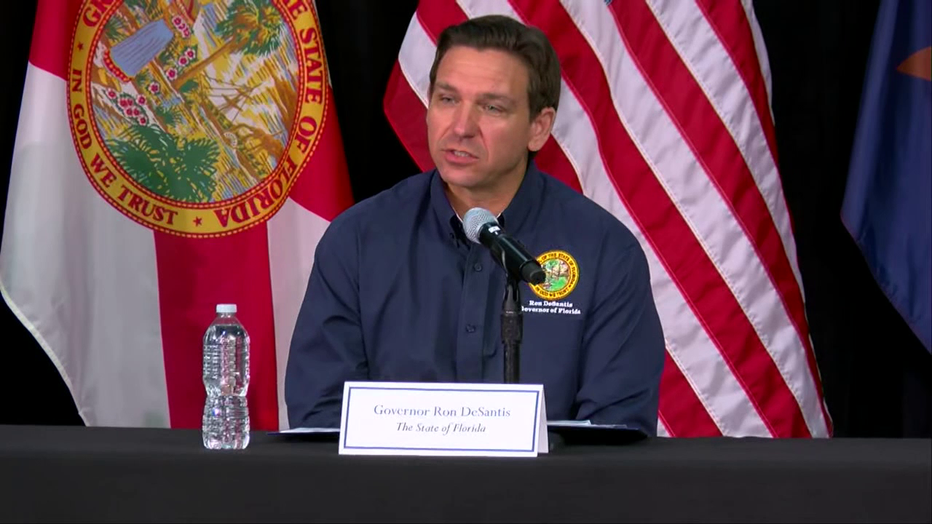 The flights to California came after the DeSantis administration spurred controversy in September by flying migrants from Texas to Martha's Vineyard in Massachusetts. Javier Salazar, the sheriff of Bexar County, Texas, said Tuesday he had completed an investigation into the September flights and referred a "completed criminal case" to the local district attorney's office.
READ: Biden immigration policies blocked as federal court sides with Florida attorney general
"The charge filed is unlawful restraint and several accounts were filed, both misdemeanor and felony," Salazar's office said in a statement.
Attorneys representing some of the people sent to Martha's Vineyard and the advocacy group Alianza Americas filed a potential class-action lawsuit in September, alleging the asylum seekers were "tricked" into going from Texas to Massachusetts.
Lawyers representing those migrants said Wednesday they traveled to California to assist the asylum seekers sent to Sacramento and found "many similarities to our Martha's Vineyard clients."
"Just as our Martha's Vineyard clients were preyed upon by recruiters in San Antonio when they were at their most vulnerable, the Sacramento migrants lacked food and shelter when they were recruited for these flights in El Paso," the Lawyers for Civil Rights organization said in a news release.
MORE: Gov. Ron DeSantis signs bill aimed at illegal immigration in Florida
Florida lawmakers included $12 million in the current year's state budget for the Department of Transportation to carry out a "program to facilitate the transport of unauthorized aliens from this state." Lawmakers revamped the program in February, including putting it under the Division of Emergency Management. They included $12 million for migrant relocation in the budget for the 2023-2024 fiscal year, which will start July 1.
DeSantis said "sanctuary" communities should bear the impacts of migrants crossing the southwest border.
"Sanctuary jurisdictions are part of the reason we have this problem, because they have endorsed and advocated for these types of open border policies," DeSantis said.
DeSantis also said "states need to be more aggressive in some of the things that they're doing. It's one thing to say some things are a federal responsibility. But if they just completely abandon the field, then you don't have any rule of law."
The Arizona event was announced by the governor's office as a "roundtable" discussion. Among the other participants were Florida Attorney General Ashley Moody, Polk County Sheriff Grady Judd and Brevard County Sheriff Wayne Ivey.
DeSantis is scheduled to make campaign stops in Texas and Oklahoma in the coming days.