Heavy fog forces incoming cruise ships to wait 9 hours before docking at Port Tampa Bay
TAMPA, Fla. - Fog has dampened vacations for thousands in the Tampa Bay area. The heavy fog Monday morning forced incoming cruise ships to wait for nine hours before docking at Port Tampa Bay. 
"It was really dense," said passenger Natalie Whitlock. "You could see a couple of ships out with us, and you could only see the very tops of them."
It took nine hours to get from the edge of the Gulf of Mexico into Port Tampa Bay. Fog made it too fishy to navigate the tight turns of Channelside.
MORE: Mississippi State fans gather for Tampa Reliaquest Bowl after beloved head coach dies before Christmas
"It has been a very long day. We have been out of our staterooms for a little while," said Whitlock. "We have been waiting on a line for an hour just to get off. It has been a long day."
Three ships were stuck until the fog burned off. The Norwegian Dawn, the Royal Caribbean Brilliance of the Seas and the Celebrity Constellation.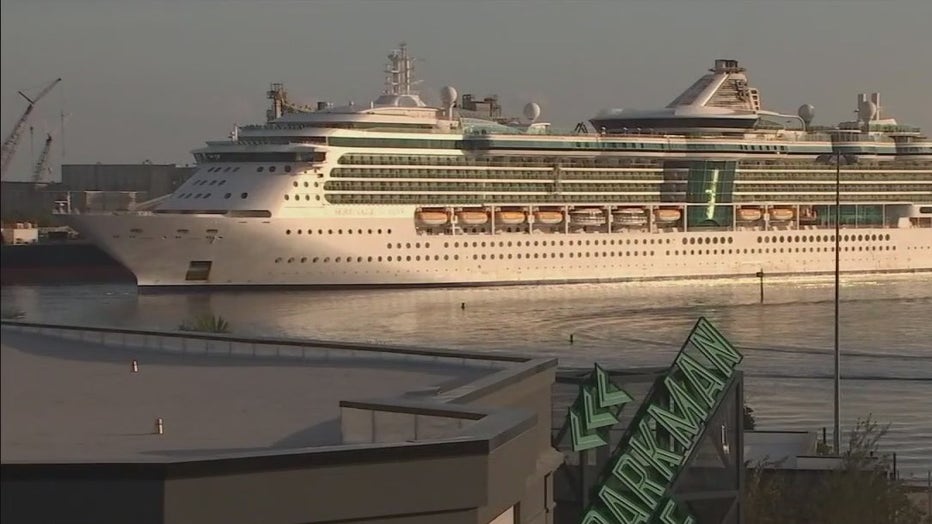 That led thousands to have an unexpected free day in Tampa, as they waited for their ships to dock, so they could get on.
"At least they should give us happy hour, don't you think?" said Purita Burton, a passenger. "Six hours waiting."
READ: Woman convicted of killing her 'mouthy' children pleads for proper mental health treatment or release
The trip tango wasn't all bad for everyone. 
For one thing, all outgoing Royal Caribbean passengers will get a half day of fare as an onboard credit. And others are just glad it was only fog – and not snow.
"We know we are going to get on, so we are not stressed about that. We are just enjoying the sun, because it is snowing and colder," said Madelyne Desormeaux, another passenger.
Ships were expected to leave late Monday evening into early Tuesday morning.