Hillsborough teachers, students plan protest as school board meets to discuss budget cuts
TAMPA, Fla. - Hillsborough County school board members heard from a literal chorus of protesters as they met to discuss budget cuts and shortfalls Tuesday. Chorus students and teachers from across the district sang outside the meeting to try to convince board members and district officials that the arts are worth saving. 
The district is facing a potential deficit of nearly $129 million. Superintendent Addison Davis said it might be possible to make up about $72 million. However, with this big of a crisis, difficult decisions need to be made.
Teachers, students, and parents raised their voices outside and sounded off inside -- telling the school board that the arts should not be part of those cuts.
"They're scared for their health, they're scared for their safety, and they're scared for their jobs," one teacher said during the school board meeting.
PREVIOUS: Hillsborough County braces for widespread layoffs in school district due to budget crunch
"If we reduce the number of teachers and guidance counselors and principals and assistant principals the quality of education will suffer," said parent Lynn Peate.
Rumors have been swirling about impending cuts to jobs and programs to help make up a potentially massive budget deficit.  The biggest chunk- about $56-million could need to be paid back to the state because the district has 7,330 fewer students this year.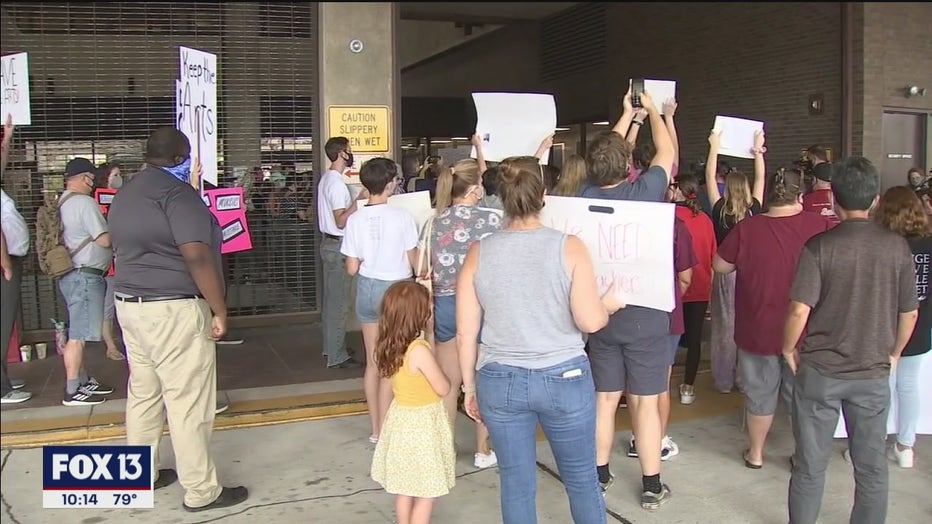 The Superintendent is reviewing proposals from each school on ways to save money.
"In no way shape or form would we ever, or I'd ever allow us to cut art classes, music classes, enrichment classes, they are the foundation," Superintendent Addison Davis said.
The biggest savings could come from about 425 unfilled positions.  Davis says the district will get creative and consider every option to recoup funds, but jobs could be a last resort.
"Ultimately we'll do our best to protect classrooms, but there's a reality that we are particularly over in our allocations in our schools," he said.
Davis says these difficult decisions will be made in the next few weeks.  Likely in mid-October after the first nine-weeks of the school year.