Indiana father warns others of mold in juice box pouches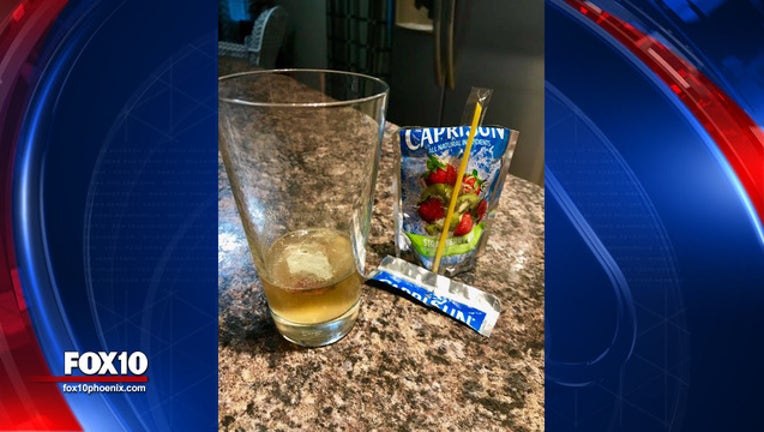 article
COLUMBUS, Ind. (KSAZ) -- An Indiana father is bringing awareness to unmentionables that may be lurking in your child's juice box pouch.
On Facebook, Cameron Hardwick posted a video and photos of a mold-like substance from a Capri Sun pouch.
He explains he grabbed the pouch out of the refrigerator and noticed something odd about it. The amount of juice "seems low in content," but there was no hole in the packaging.
Hardwick decided to shake up the pouch, revealing an unknown substance in the package.
In the video, he cuts the top off of the pouch and pours out the juice with "some kind of mold."
In a follow-up, Hardwick told Fox 10 that Kraft Foods reached out to him on the second day of his post going viral.
He says a "third party company came to the house to pick up the 'sample' and package the following day, then sent it to a lab for testing."
"They came back with the results a few days later and said there was a 'micro-puncture' in the package allowing oxygen to enter the pouch and create the mold seen in the video and pictures," Hardwick said.
On Capri Sun's website, they acknowledge reports of mold in their pouches.
Furthermore, another FAQ asks the company what they are doing to prevent mold in the pouches.
Hardwick's Facebook post has received over 80,000 shares, and he's explained that he'll never give the fruit juice pouches to his children again.