IndyCar motorcade drives across Golden Gate Bridge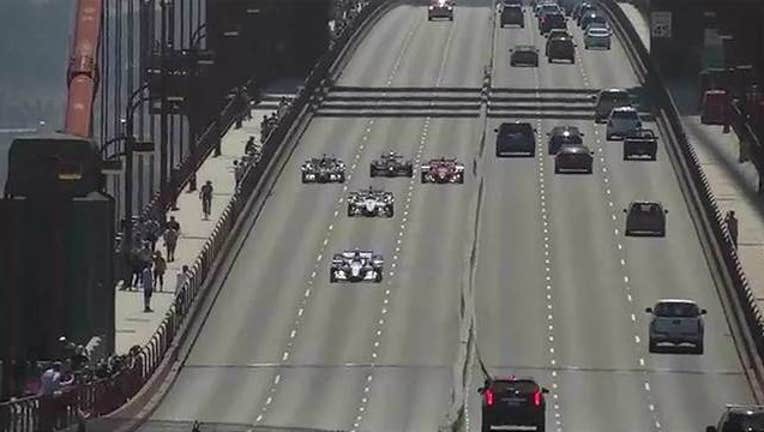 article
SAN FRANCISCO - The Golden Gate Bridge got a speedy visit from a group of race car drivers Thursday afternoon.
A motorcade of race cars drove through the northbound lanes of the bridge around 1 p.m., making their way to the 11th GoPro Grand Prix of Sonoma Verizon IndyCar Series season finale, happening this weekend at the Sonoma Raceway.
The purpose of the IndyCar motorcade was to deliver the Astor Cup Championship trophy to the raceway, according to IndyCar officials.
The event also served as a tribute in honor of driver Justin Wilson, 32, who died Monday from head injuries he suffered the previous day when he was struck by debris from a car crash during the Verizon IndyCar Series race at Pocono Raceway in Long Pond, Pennsylvania.
As part of the tribute, teammate Marco Andretti led the motorcade while driving Wilson's No. 25 car across the bridge. Two safety vehicles also drove in the motorcade, flying Justin Wilson flags from the back of their trucks, IndyCar officials said.
Wilson's death comes just as racers had begun preparing for the championship-deciding race.
The event begins on Friday and Saturday with practice rounds, which are open to the public.
It will then culminate Sunday, as six racers will compete for the title of Verizon Indy Car Series champion.
This year's event is the first time Sonoma Raceway has concluded a major motor sports series season.
Heavy traffic in the area during Sunday's event is expected, according to Sonoma Raceway officials.
Raceway officials are advising visitors to arrive early on Sunday.
In addition, raceway officials are asking non-race attendees to use alternative routes in and out of the Napa and Sonoma valleys, particularly avoiding the sections of state Highways 121 and 37.