Jolly announces run for U.S. Senate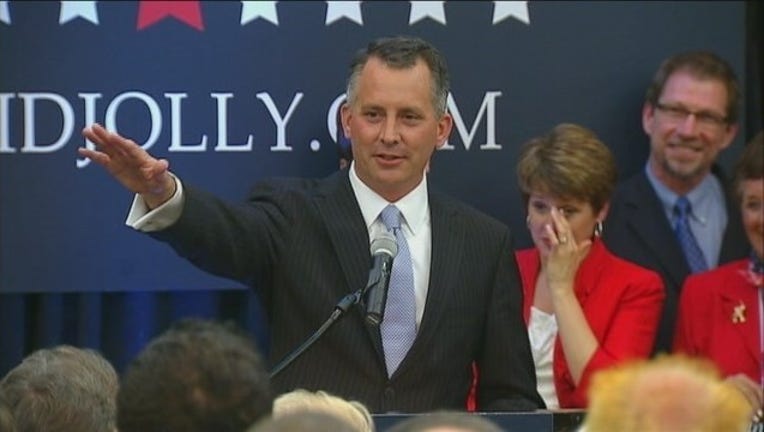 U.S. Representative David Jolly has formally entered Florida's 2016 U.S. Senate race. Jolly joins fellow Republicans U.S. Rep. Ron DeSantis and Lt. Gov. Carlos Lopez-Cantera in the race to seek the seat currently held by U.S. Sen. Marco Rubio. Democrats U.S. Rep. Patrick Murphy and U.S. Rep. Alan Grayson are seeking the democratic nomination.
A campaign source confirmed Jolly's entry Monday morning. His campaign later released a formal announcement.
 
"I have been blessed with the opportunity to represent the people of Pinellas County in the U.S. House, taking their voice to Washington, D.C., and delivering results for our neighbors and community," said Jolly. "I am proud of what we have accomplished together, and I am confident that the best is yet to come for our region and our state. It is with this sincere belief and focus on the future of Pinellas County and the entire State of Florida that I proudly announce my candidacy for the United States Senate."
Jolly served as a long-time aide to former Congressman Bill Young and after Young died, Jolly won his seat. He defeated former CFO Alex Sink and Libertarian Lucas Overby in a special election in 2014.
Jolly decided to enter the U.S. Senate race prior to court-ordered plans to redraw his Pinellas County district.
"Over the next year, I intend to run for the United States Senate on an unwavering platform that will reject the politics of division and class warfare that have defined the current Administration, reject the failed foreign policies that have projected only weakness and apology on the world stage, and embrace a new economy founded on the principle that individuals and families, not government bureaucrats, create success. I will stand up everyday for the American people and say once and for all that you should be allowed to determine your own future, practice your own faith and pursue the American dream - and that includes making your own health care coverage decisions," said Jolly.
The Florida Democratic Party responded to Jolly's announcement by attacking the entire GOP field. "Koch-backed Tea Partiers, a no-show Lieutenant Governor with more baggage than Rick Scott's private jet can carry, and now a Washington lobbyist. Could Florida Republicans have assembled a primary field more out of touch with middle class voters than these four? No wonder this field is already being described as weak," said Florida Democratic Party chair Allison Tant. "Florida Democrats look forward to sending Bill Nelson a Democratic partner in the fight for Florida's middle class."