Manhunt for three escaped Florida inmates continues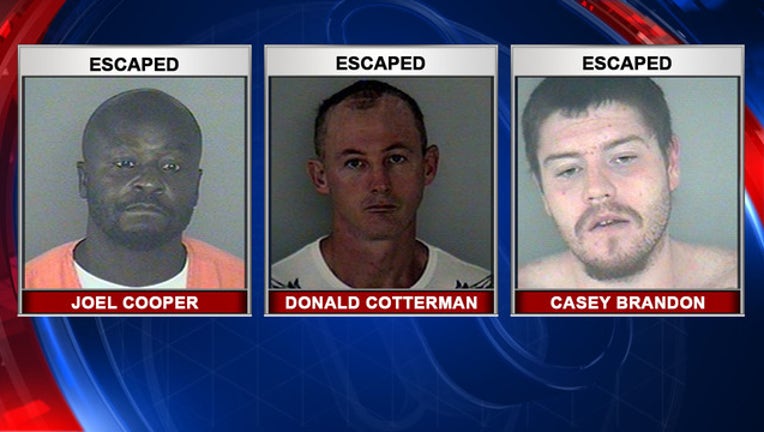 article
CRAWFORDVILLE, Fla. (FOX 13) - Three Florida inmates who escaped early Friday morning have not been found.
Wakulla County authorities announced on Friday, Joel Teraill Cooper, Donald James Cotterman and Casey Martina Brandon, escaped the county jail through a "breach" in the ceiling of the library, and made their way across the building to an exit point. The escaped occurred just after midnight.
It appears they are no longer in the area, county officials announced on Sunday. Deputies said they are considered to be dangerous individuals, but it's not known if they are armed.
- Joel Teraill Cooper, 43: described as a black male, 5'08" tall, weighing 187 pounds and was charged with burglary.
- Donald James Cotterman, 44: described as a white male, 5'11" tall, weighing 156 pounds, and was charged with burglary, criminal mischief and weapon possession. He is also a registered sex offender.
- Casey Martina Brandon, 25: described as a white male, 6'02" tall, weighing 210 pounds, and was charged with burglary, theft, vehicle theft and criminal mischief.
Florida High Patrol, Leon County Sheriff's Office, Department of Correction and the Florida Department of Law Enforcement are assisting in the search. 
Officials advises if you see any of the suspect or know of their whereabouts, don't approach them and call 911 or the the Wakulla County Sheriff's Office immediately at 850-926-0800 or 850-745-7100.