Mom allegedly solicited men to sexually assault her 10-year-old daughter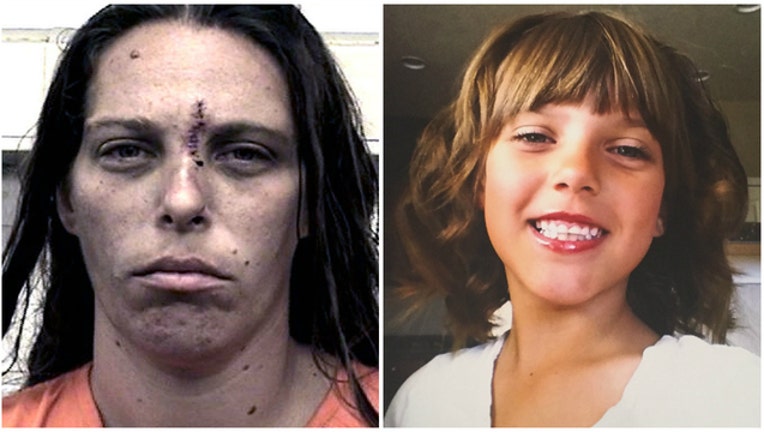 article
ALBUQUERQUE, N.M. (AP) — The mother of a 10-year-old New Mexico girl who was found dead and dismembered told police she looked for men online and at work to sexually assault her daughter, according to search warrants in the case.
The documents showed Michelle Martens told police that she had set up encounters with at least three men before the girl was drugged, raped and killed last month.
The single mother told investigators she didn't set up the sexual assaults for the money but did it because she enjoyed watching, according to the warrants. It's unclear how long she had been arranging meetings before Victoria Martens' death or if police have identified any of those men.
Police found the girl's dismembered body inside the apartment she shared with her mother on the day she was expected to celebrate her 10th birthday. The slaying ignited outcry and vigils.
Laura Bobbs, a local minister and spokeswoman for the family, cried when she learned about the details outlined in the search warrants.
"Jesus Christ. My poor baby, my poor baby," she exclaimed, referring to Victoria. "She never told us this was going on. I would ask her all the time, 'Are you OK?' She would tell me yes."
Bobbs reiterated Wednesday that there were no indications from Michelle Martens or the girl that anything was wrong.
"I would see this woman every day. There were no signs. How did she hide this from us?," she said. "This thing gets worse and worse and worse."
Michelle Martens, Fabian Gonzales and Jessica Kelley — a cousin of Gonzales' — have been charged with first-degree murder and aggravated criminal sex penetration of child under 13. Victoria was stabbed and strangled.
Martens' attorney, Mark Earnest, did not immediately return a telephone message from The Associated Press.
Martens, 35, told investigators that one of the men she solicited was a co-worker. Two others she met online, including Gonzales, 31. He was to be the last.
Martens told police she used the dating website Plenty of Fish to look for men to sexually assault Victoria.
Her statement to police is included in nearly a dozen search warrants to search a safe in Martens' apartment, her car, and electronic devices discovered during the investigation, including a camcorder they believed may have been used for sexual exploitation of children.
Investigators also sought DNA evidence from the suspects, as well as multiple electronic devices and a camcorder they believed may have been used for sexual exploitation of children.
The Albuquerque Journal was first to report on the warrants late Tuesday (https://goo.gl/bujnqP).
___
Associated Press writer Mary Hudetz contributed to this report.