National Doughnut Day 2023: Celebrate with deals from Dunkin', Krispy Kreme, and more
Doughnut enthusiasts across the nation can celebrate National Doughnut Day in a sweet way – with deals and promotions to celebrate the occasion. 
The Salvation Army in 1938 established National Doughnut Day to honor the organization's Donut Lassies – women who traveled to France to serve donuts and other snacks to soldiers during World War I. These women are credited with popularizing the donut in the United States after the troops came back from fighting in Europe.
So, whether it's a classic doughnut from Dunkin' or a cinnamon sugar doughnut from Shipley's, there are many free treats and specials available for the unofficial holiday. 
Krispy Kreme
Krispy Kreme is leading the charge with its enticing offers. On June 2, the doughnut empire is treating all guests to one free doughnut on National Doughnut Day. You can also get an original glazed dozen for $2 with the purchase of any dozen.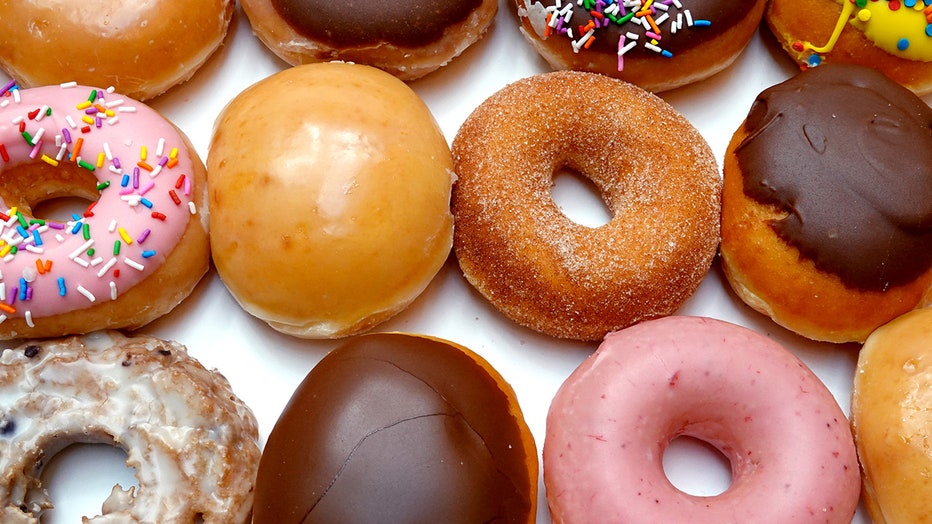 Doughnuts are sold at a Krispy Kreme store on May 05, 2021 in Chicago, Illinois. (Credit: Scott Olson/Getty Images)
According to the famous doughnut chain, any doughnut is available to get for free, including Krispy Kreme's "Fan Favs", that are back for a limited time.
RELATED: National Doughnut Day: Krispy Kreme offering free treat to celebrate
Dunkin'
Dunkin' is also offering customers a free classic doughnut with a purchase of any drink on Friday, June 2.
"My favorite donut is jelly but tomorrow my favorite donut is FREE," the doughnut empire wrote on Instagram.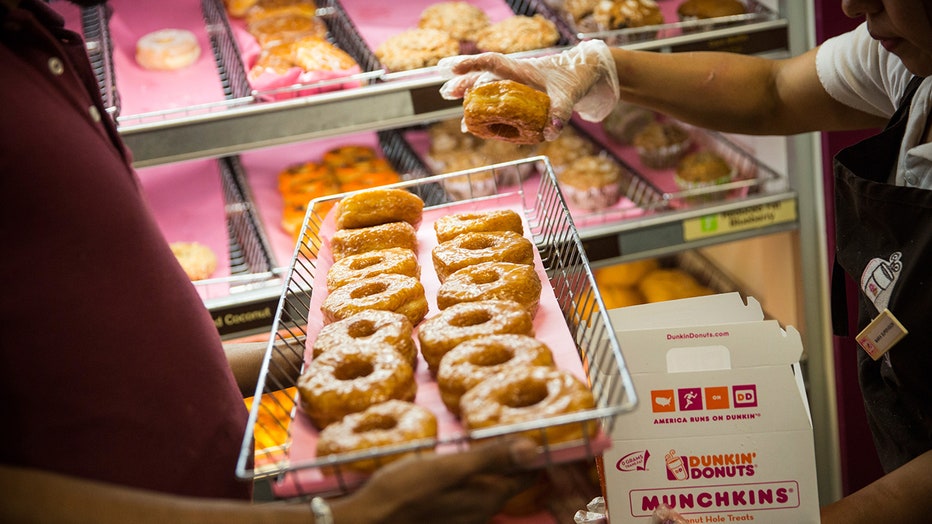 A Dunkin' Donuts employee places a doughnut in a box on November 3, 2014 in New York City. (Credit: Andrew Burton/Getty Images)
Classic doughnuts include fan favorites like jelly, glazed and chocolate with sprinkles.
Shipley's Do-nuts
Shipley's Do-nuts is offering one free glazed doughnut with any purchase online with the code Donutday23 or in-store from 5 a.m.-12 p.m. while supplies last.
"The best day of the year is coming in HOT," Shipley's wrote on social media earlier this week. 
Tim Hortons
In honor of National Doughnut Day, Tim Hortons is celebrating with free doughnuts too.
The coffee and restaurant chain is offering a free doughnut when U.S. customers order a drink on the company's app or online.
Duck Donuts
On Instagram, Duck Donuts announced they will be giving away a free cinnamon sugar doughnut to in-store customers on June 2.
The national chain, founded in North Carolina, said no purchase is necessary to receive the free treat.
Voodoo Doughnut
Voodoo Doughnut is getting in on the celebration. 
This Friday, the Portland-founded company will honor the day with a Raised Glazed Bakers Dozen for $10.
The special is available at all locations in Oregon, Washington, Texas, Colorado, California and Florida. 
Honey Dew Donuts
You can also stop by Honey Dew Doughts for a free doughnut with any medium drink purchase. 
The donut chain has locations in Massachuetts, Rhode Island and New Hampshire.
"We can't wait for the best day of the year TOMORROW!," the chain wrote.
This story was reported from Los Angeles.