National Pride Month festivities begin in St. Petersburg
ST. PETERSBURG, Fla. - When the calendar flips to June, it's "National Pride Month," and St. Petersburg is known for having the largest pride festival in the state and one of the largest in the country.
"I think the overall message is that queer people are here, that we have always been part of civil discourse, we've always been part of society, and pride is really leaning into queer joy and joy as an act of resistance when we are in a really oppressive time that feels kind of tough and heavy," said Byron Green-Calisch, the Vice President and Board Director for St. Pete Pride.
Organizers say this year feels different after state lawmakers passed laws targeting the LGBTQ community, limiting gender-transition treatments, bathroom use, and keeping children out of drag shows.
Those laws go into effect on July 1st.
Also, the state Board of Education approved a ban on classroom instruction about sexual orientation and gender identity in all grades.
READ: St. Pete Beach waterfront restaurant closing after 15 years
St. Pete Pride's organizers say they've worked closely with city officials to ensure every event was in accordance with the law.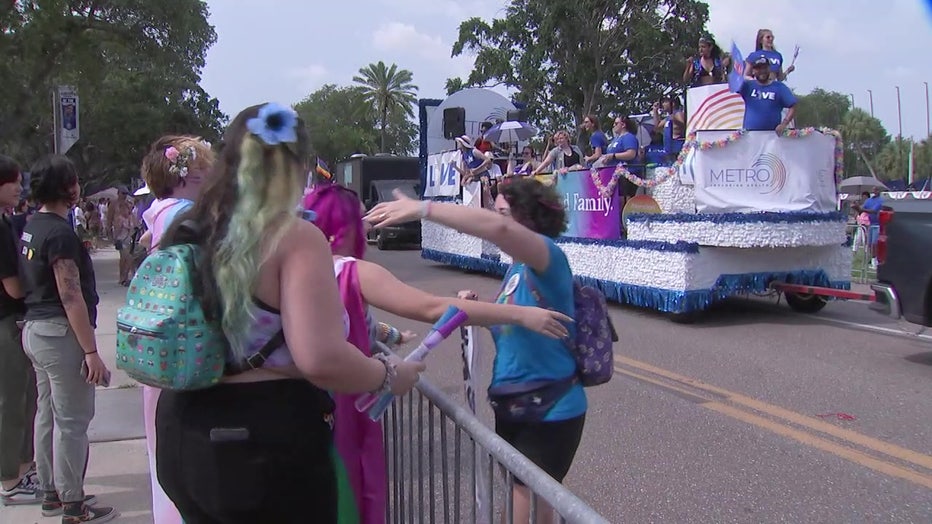 "St. Pete Pride has an amazing relationship with the city of St. Petersburg. We've been in communication since before the legislative session in our planning overall, so we are very blessed to work with the city, and we were able to plan some things pre-emptively, knowing that this might be a thing, so luckily we were not caught in a position where we were flat-footed," Green-Calisch said.
On Thursday, Mayor Ken Welch marked the start of "National Pride Month" by raising the rainbow flag outside city hall.
"It has not been an easy road, this year especially. But as doctor king said, we are here. And we are standing. And we are poised to host the largest, most diverse, the most inclusive, and the best pride celebration in the United States this month," Mayor Welch said.
READ: Idina Menzel headlines St. Pete Pride to support LGBTQ community
Across the bay on Thursday, Tampa's first openly gay mayor, Jane Castor, raised the pride flag at old city hall.
"We've seen some talk about travel warnings, travel bans," said Mayor Castor. "I say everybody come to Tampa because we are a very, very welcoming city, and we will welcome you to our community with open arms."
St. Petersburg's main parade and festival will take place on June 24th.