Old clothes reborn: ECHO's handmade items help change lives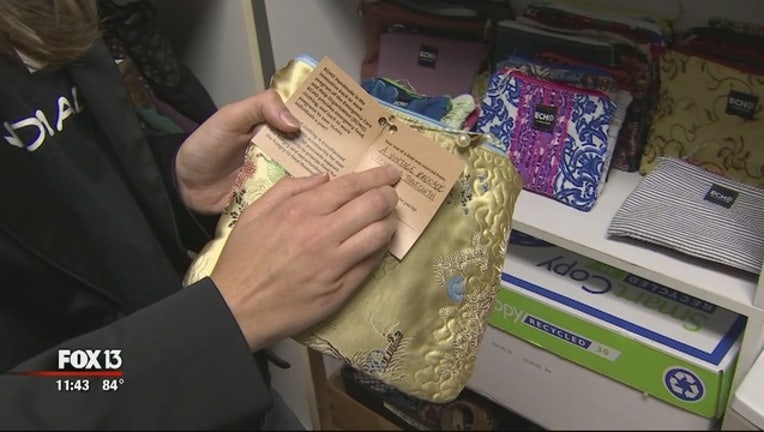 article
BRANDON, Fla. (FOX 13) - In a busy room at Emergency Care Help Organization (ECHO) in Brandon, workers and volunteers sort through bags of donated clothes. Many items will be hung on racks in another room, ready for families in need, but some items -- especially ones with wacky colors and patterns -- will find new life in a different room. 
"We create a lot of beautiful things," ECHO Handmade volunteer Marketa Reed said. 
The old clothes will be transformed into small bags, shoulder bags, totes and much more as part of the ECHO Handmade program. Each repurposed item has a small brown tag, which explains what it's made of. Cool combinations like "men's suit coat + dress + men's tie" can be seen inside the tags. 
"It's a triple win," ECHO Handmade social enterprise coordinator Taylor Mazza said. "It's great for the planet because we're able to recycle. It's great for the community because we're able to help those who work for us. Third, we're able to provide ECHO another stream of revenue."
While ECHO Handmade is about two years old, ECHO itself has been serving the Tampa Bay area for 31 years. The organization provides emergency clothing and food for people in crisis in the community, more than 12,000 each year. 
Listed under the ECHO's mission statement is to "end hunger in southeastern Hillsborough County. Immediate hunger is addressed through a fully stocked food pantry. Long-term hunger is alleviated through stability programs such as a vibrant job skills training program, GED instruction, and financial literacy resources."
The new revenue from ECHO Handmade helps support those stability programs that are held in the building's Opportunity Center. The center is also where workers and volunteers help put the ECHO Handmade items together. The room is filled with sounds of cutting, sewing machines, hammering and conversations about fabrics and patterns. 
The hammering noises come from the workshop of Frank Jones, one of the program's artisans, or independent contractors. He's come full circle with ECHO. He took stability classes when he was in need, learning how to write resumes and cover letters and answer interview questions. In December 2016, he became ECHO Handmade's first artisan. He creates cuffs with motivational sayings, using donated belts and metal. 
"I see the good in it," Jones said. "I know I'm helping people."
ECHO Handmade products range from $10 to $25. While the funky patterns and cool combinations attract potential customers, Mazza hopes the small brown tags, which also feature the story behind ECHO, make the bigger impression. 
"It's not just a cool bag with a tie; we're helping people get their head above water," Mazza added.   
MORE INFO:
ECHO: https://echofl.org/
ECHO Handmade: https://www.echohandmade.org/