Parrish Community High evacuated after multiple bomb threats; investigators work to track source
PARRISH, Fla. - Students and staff at Parrish Community High School were evacuated from the building Tuesday morning after officials received two bomb threats. Since February 1, school officials say they've received four bomb threats against the school that have not been credible. 
Law enforcement spent more than three hours working to clear the campus after evacuating the building, officials with Manatee County Schools and the Manatee County Sheriff's Office said during a Tuesday afternoon news conference. Bomb dogs from the Hillsborough County Sheriff's Office also responded to assist on campus.
"The school administration as well as the partnership with the local sheriff's department have taken those threats very seriously," Manatee County schools Superintendent Cynthia Saunders said. "It is unfortunate that these threats continue and that they disrupt education for so many."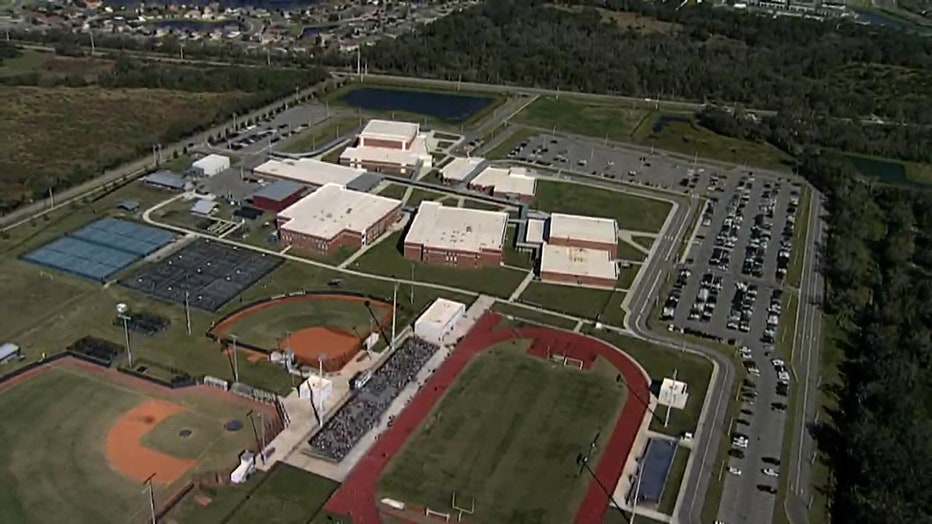 READ: Judge approves motion to exclude bodycam audio in DUI case against Manatee Commissioner George Kruse
Parrish Community High's students and staff members were all evacuated to the football fields until law enforcement cleared the campus. The Parrish Community High principal said once the building was cleared, they were able to go back to class until schools was dismissed for the day.
Manatee County Sheriff Rick Wells said investigators are working hard to get to the bottom of the bomb threats and find the source of them. He said the threats have come through the "FortifyFL" app, which is making it harder to find the source because of its anonymity. 
The sheriff said they are working with the FBI in this investigation, and are continuing to work on finding who is responsible, so it doesn't continue happening. 
"When we find who is responsible, we will arrest them, we will take them to jail," Sheriff Wells said during the news conference. 
Schools officials said Tuesday's threats were different from previous threats made, because they were bomb threats for a specific time. This ultimately led to the school's evacuation, district officials said. 
The school initially said students were going to be taken to the Manatee County Fairgrounds for parents and guardians to pick them up. However, the students were ultimately kept at the football fields, leading to some confusion from parents. Students who drove themselves to school had to be cleared by the sheriff's office in order to leave.
The school district later said it was originally planning to have reunification at the fairgrounds, but that changed because law enforcement was able to clear the campus quicker than expected.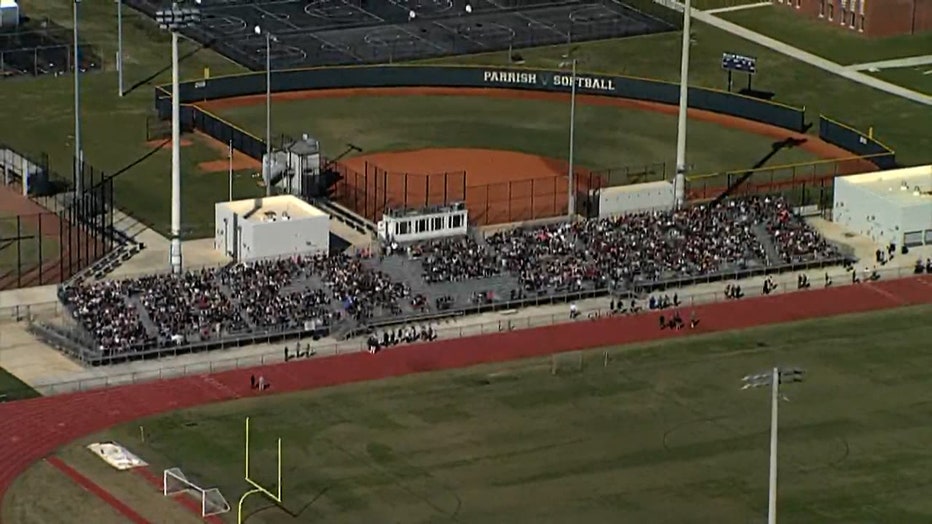 "Once we knew that they could speed up the clearance of the campus, it was deemed that it would be quicker for them to check their kids out here," said Saunders, as she tried to explain the changing instructions for parents.
Parents, including Aldo Cruz, whose daughter, Gabriella, is a junior at the school, was so frustrated with the threats and school response, he may look elsewhere for an education.
"These kids every day have been traumatized. Gabriella will now probably be signed up for Florida virtual school," said Cruz. "It's an afront to all the kids because you're putting them through unnecessary trauma. And I know kids will be kids, but it's got to stop."
Superintendent Saunders did say the campus is safe for students to return Wednesday, and Sheriff Wells did confirm they have had a stronger law enforcement presence on campus since the threats at Parrish Community High began. 
Sheriff Wells did say the person responsible for the threats could face second-degree felony charges for written threats and disrupting school functions. He also urged parents to talk to their kids as well as anyone with information on these threats should come forward, saying "we need to put an end to this."
"I need for you to seriously sit down and talk to your children about making idle threats, any threats whatsoever," Sheriff Wells said. "When we find those that are responsible, we are going to put them in jail, they are going to be charged with a felony and that felony is going to stay with them for the rest of their life."