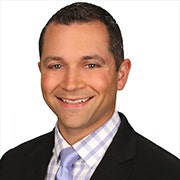 Aaron Mesmer is a general assignment reporter for FOX 13. He joined the FOX 13 News team in March 2013.
Aaron is a six-time Emmy Award-nominated and Edward R. Murrow Award-winning reporter who is happy his road led him south. The native New Yorker feels like a Floridian at heart, having family members spread out across the Sunshine State.
Aaron came to FOX 13 after two years at News 12 Connecticut in the New York City market as a reporter and fill-in anchor. During that time, he reported on some of the region's biggest stories, providing extensive coverage of the tragic school shooting in Newtown, CT, as well as Hurricane Sandy and Tropical Storm Irene.
Prior to that, Aaron spent four and a half years at News 14 Carolina in Charlotte, NC, covering the station's financial beat and helping lead the coverage of the financial crisis in 2008 and '09. His broadcasting career began in West Virginia.
Aaron graduated from the University of North Carolina at Chapel Hill with a degree in broadcast journalism and an outside concentration in trumpet performance.
When Aaron isn't out reporting, he enjoys spending time with his wife, Suzy, and their dog, enjoying the beautiful Tampa Bay area and watching the Yankees, Jets, and Tar Heels.
If you would like to contact Aaron, you can email him at Aaron.Mesmer@foxtv.com. You can also connect with him on Facebook and follow him on Twitter @AaronMesmer.
The latest from Aaron Mesmer
Consumer advocates from across Florida held a virtual news conference Monday to discuss toy safety as the official start to the holiday shopping season approaches.
A new AAA survey released this week indicates travelers might be heeding the CDC's advice and staying home for Thanksgiving.
Medical experts are urging caution as college students prepare to travel home for Thanksgiving amid a nationwide rise in COVID-19 cases.
Hillsborough County's health department director recommended people "keep it in the family," when it comes to gathering for the holidays, while adhering to standard COVID-19 safety measures.
A surge in COVID-19 cases in Pasco County schools could force the district to limit or pause some sports and extracurricular activities, superintendent Kurt Browning said this week.
The Pasco County home that was one of the main sets used in the movie 'Edward Scissorhands' started getting a makeover Thursday, as the new owners decided they wanted it to look more like the house in the film.
The Hillsborough County School District recorded a record high number of daily COVID-19 cases earlier this week, as leaders for the school system urged parents to continue following CDC guidelines when students are off campus.
The 2020 election could usher in a new era of voting habits -- plus break nationwide voter turnout records, experts said Tuesday.
Election officials throughout Florida put some of the final touches on what they hope will be a smooth and potentially record-breaking Election Day.