Pasco sheriff: Man extorted money from girlfriend's employer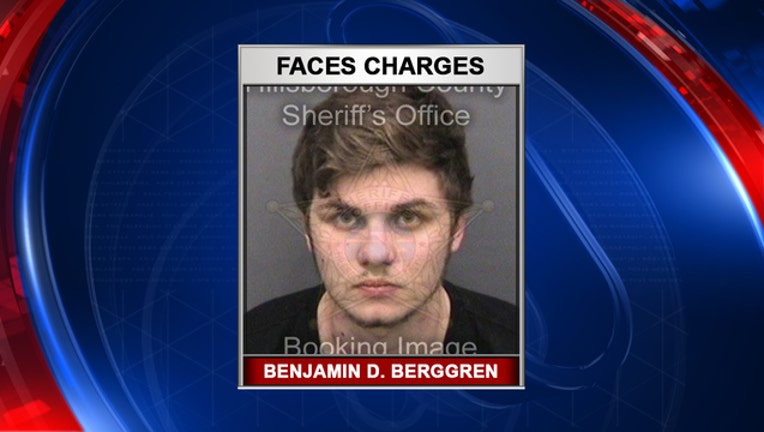 article
LAND 'O LAKES (FOX 13) - Deputies say a Pasco County man tried to extort $1,000 from his girlfriend's employer after making threats to hurt the man's wife and child.  
The Pasco County Sheriff's Office said it started when 19-year-old Benjamin Berggren read text messages between his girlfriend and a man whose family hired her to babysit. PSO said Berggren apparently misunderstood the messages and assumed his girlfriend and the man were having an inappropriate relationship. 
An arrest affidavit says Berggren proceeded to call the man more than seven times and left messages, saying he knew where the man worked and lived, and then threatened to harm the man's spouse and child.
Then, on December 4, Berggren asked the man for $1,000 in two cash payments. 
The affidavit says the money was, "to keep the fact that [the man] was flirting with a minor," secret. 
The man made an arrangement for Berggren to pick up an envelope containing $500 from his mailbox. When Berggren arrived, the man took pictures of Berggren taking the envelope from the mailbox. The second payment was arranged for the next day, but the man contacted his lawyer, who then called the Pasco County Sheriff's Office. 
PSO arranged for a controlled phone call, where the man asked Berggren for more time. Later that day, the second payment was arranged. This time, PSO said 19-year-old Brian Turpin got out of Berggren's vehicle, went to the mailbox and took out an envelope he thought had the second $500 payment. PSO said this envelope was actually empty. 
PSO conducted a traffic stop on the vehicle and arrested Berggren and Turpin. Berggren told deputies the man offered the money for his girlfriend's college fund, but did not deny talking to the man about threatening his family or taking the money.