Pinellas deputy shot 3 times during 'ambush' leaves hospital a few days later
ST. PETERSBURG, Fla. - With his daughter's hand around his own, Corporal Matthew Aitken walked out of the front doors of Bayfront Hospital in St. Pete, just a few days after he was shot three times while on duty.
Law enforcement, barking K9s, and loved ones were lined up on each side of the exit as the Pinellas County deputy strolled toward an undercover patrol car, taking deep breaths. Before he entered the front passenger seat, he turned toward his peers in uniform and raised his right fist.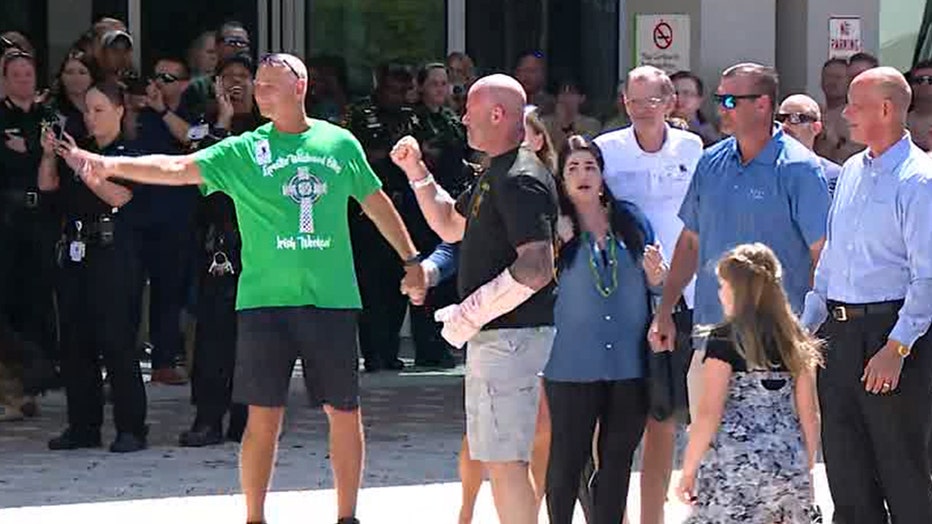 Over the weekend, Cpl. Aitken was shot in the neck, hand, and leg while responding to a vehicle burglary report. He was with his K9 Taco, and, luckily, a Sgt. Jacob Viano was with them during the call, said Sheriff Bob Gualtieri.
"If Viano hadn't run with him, he wouldn't be here today," the Pinellas County sheriff stated the following day.
After the deputy left the hospital, the sheriff told reporters that Cpl. Aitken told him he wants to get back to work.
"He's a tough guy," Sheriff Gualtieri stated. "But he needs to take it easy. He's got a bullet in his neck, his leg is OK, he's got problems with his wrist, but I have no doubt that he'll come back and he'll come back strong because that's who he is."
"It's a happy day because Sunday was a terrible day," he added. "Today could've been a funeral day."
Before 7 p.m. Sunday, deputies learned of a vehicle burglary in the 6300 block of 60th Avenue North, an unincorporated area of the county. At the time, officials said they received one report from a witness, who confronted the suspect and began capturing video of him.
PREVIOUS: Sheriff: Suspect who 'ambushed' deputies skipped court hearing; killed by sergeant after wounding K9 handler
The witness called 911 and explained the suspect was wearing gloves and attempted to break into cars. The individual followed the suspect, later identified as 23-year-old Zion Bostick, and provided updates to the agency, according to investigators.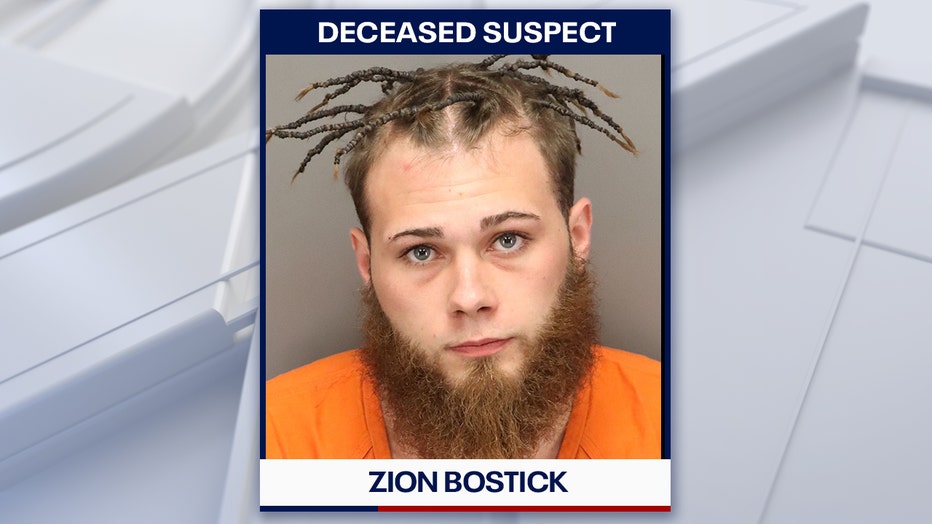 According to the sheriff's office, when deputies arrived, they spotted the suspect at Grace Brethren Church. It's located at 6300 62nd Avenue North.
Investigators said Bostick fled behind the church, through a wooded area, and into a neighborhood. That's when Cpl. Aitken and his K9 Taco began tracking Bostick.
They followed him to the backyard of a home on 60th Avenue North. Cpl. Aitken spotted Bostick trying to hide around the corner of the house, officials said, and "verbally challenged him."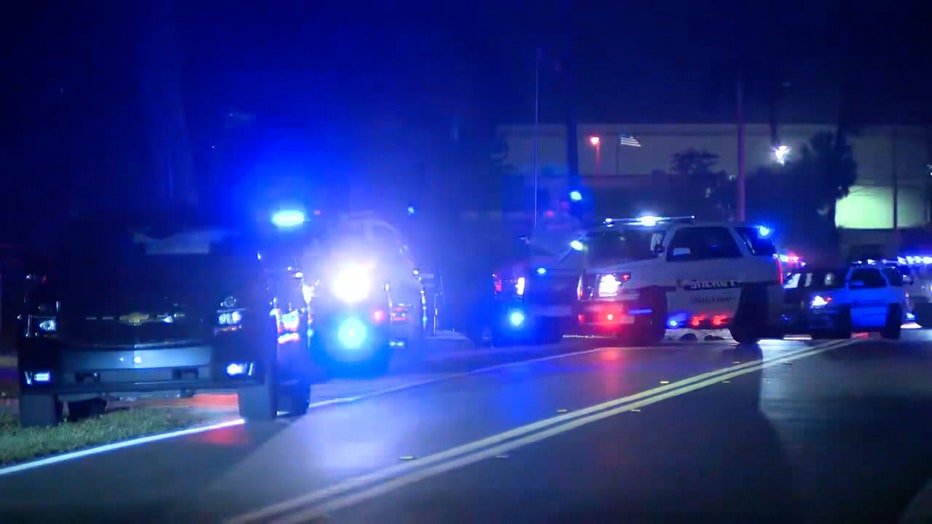 The couple who lives in that home said they heard bullets flying everywhere and hunkered down in their bedroom.
In a news release, deputies said the suspect "immediately fired several rounds at Corporal Aitken." The deputy was struck three times.
"The suspect was waiting for them and as the K9 and the handler cleared the building, that's when the suspect shot at the deputy," explained Chief Holloway. 
Officials said Bostick fired three shots at Cpl. Aitken and three shots at Sgt. Viano. Viano and the K9 weren't hurt. 
READ: Suspect arrested on second-degree murder charge in fatal shooting at Clearwater Beach surf shop, police say
Sgt. Jacob Viano, who is a former K9 handler himself, managed to "duck out of the way," according to the sheriff's office. The sergeant fired back and Bostick died at the scene.
Cpl. Aitken was taken to Bayfront Health where he was released Friday afternoon.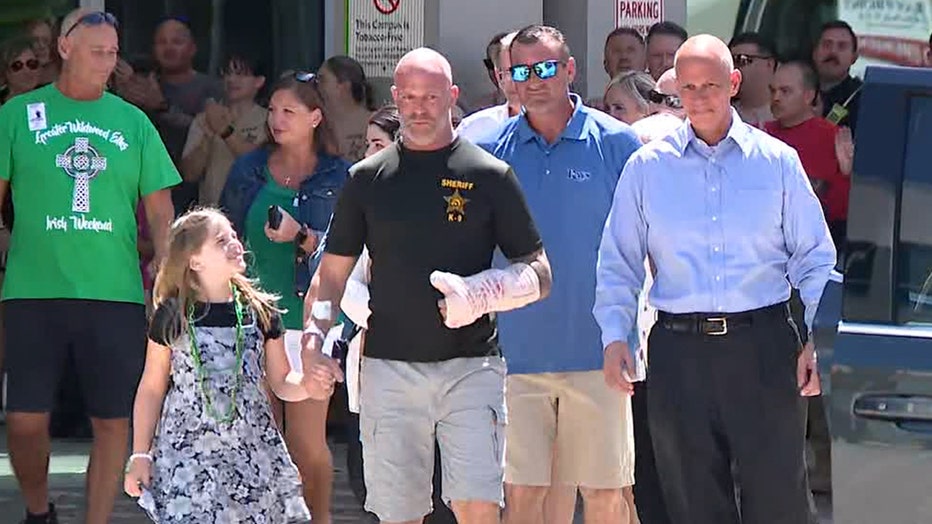 "Matt is, thankfully, one of our more experienced deputies. Because of his experience and grit, Matt survived this," the sheriff explained during Monday's press conference, adding that he believes the deputies were "ambushed."
Cpl. Aitken is 40 years old and has a wife and young daughter, the sheriff said. Sgt. Viano was hired in November 2000 and is 49 years old. He will be placed on administrative leave during the investigation, which is normal protocol.
Deputies said Bostick had a second handgun in his right pocket that was reported stolen out of Manatee County. On Friday, Sheriff Gualtieri said the weapon used was also stolen. Both were from unlocked vehicles.
"Please, people lock your cars," he said. "If you have your guns in your cars, lock your doors. Be responsible gun owners."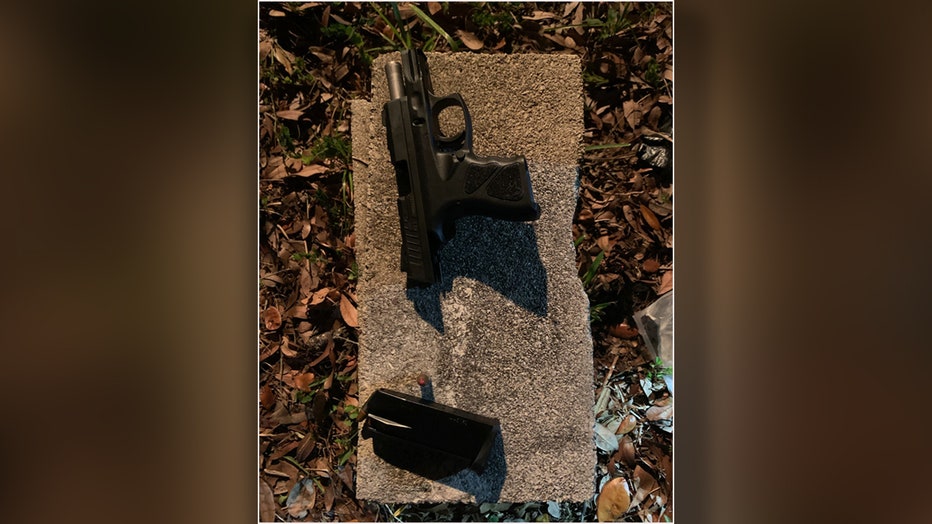 The suspect's gun, according to the St. Petersburg Police Department. 
The sheriff also wanted to remind the public that when Officer Charles Kondek of the Tarpon Springs Police Department was shot and killed in 2014, the suspect used a stolen weapon.
PREVIOUS: Son of fallen Tarpon Spring police officer sworn in as Tampa International Airport officer
Officials said Bostick didn't appear for a court hearing on March 7 for attempted burglary and driving with a suspended license charge. The sheriff said an arrangement was made for him to plead guilty.
According to the sheriff's office, Bostick "had an extensive criminal history" that dates back to when he was 17 years old. Gualtieri said Bostick was arrested 18 times, including 34 different felonies and 22 different misdemeanor charges. Those charges, Gualtieri said, include grand theft, drug crimes, and crimes with guns, and Bostick has gone to state prison twice. 
"He simply didn't want to go back to prison," Sheriff Gualtieri said. "He decided he was going to kill two deputy sheriffs. That's the type of people out there that we deal with."
St. Petersburg Police Department is investigating the deputy-involved shooting as part of the Pinellas County Use of Deadly Force Investigative Taskforce, which was created in 2020. It was started to ensure investigations into law enforcement's use of deadly force are objective.