Pinellas man arrested for slaughtering Palmetto horse
PALMETTO, Fla. - After a 10-month-long investigation, deputies say a Pinellas County man has been arrested for stealing and slaughtering a Palmetto family's horse.
"The surveillance video here was a major part in us being able to figure out who our person of interest was and eventually our suspect," said Randy Warren with the Manatee County Sheriff's Office.
It was back in early December when someone broke in through the locked gate of the farm along Buckeye Road and stole the horse in the middle of the night.  
Deputies and its owner later found the horse in a nearby field. It had been killed and gutted for its meat.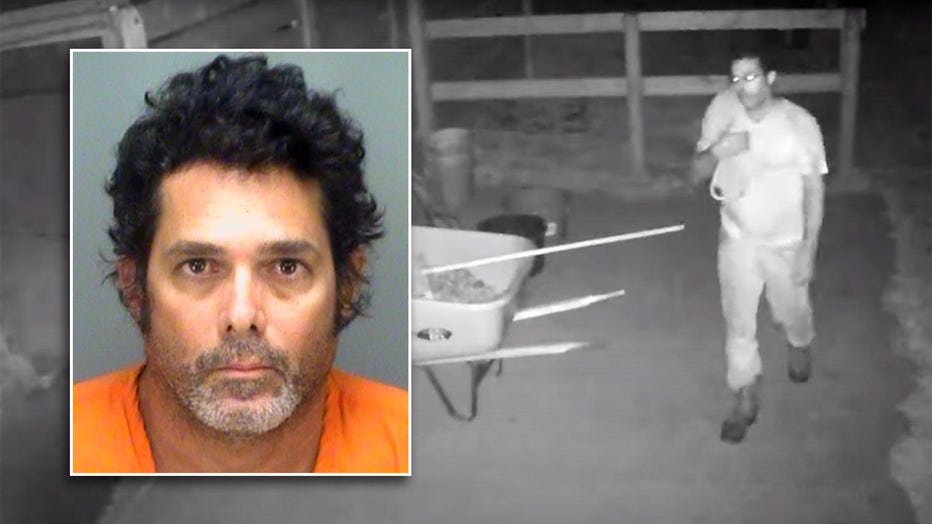 "We know that the horse was harvested for its meat and it was pretty obvious how it was just carved up there and left there. You could see that he was interested in taking portions of the meat and left other pieces behind. It was just gruesome," said Warren.
The crime rattled the state's equine community, coming just days after another horse was found slaughtered in the Ocala area.
Surveillance video released in the following days showed a person of interest walking toward the Palmetto horse stable with a coiled rope on his right shoulder.
Manatee County deputies released the surveillance video last December.
Now, deputies say that man was Eladio Garcia Gasca. The 50-year-old was arrested at his home in north St. Petersburg Thursday on charges of grand theft and animal cruelty.
Deputies believe Gasca worked in the area and had his eyes set on the horse.
They're working to find out if he could be connected to other horse slaughters across the state.
"We have more to piece together here. We do not know if this is connected to any other thefts or slaughters of horses in the area," said Warren.
Deputies said his cell phone helped place him at the scene, but the process can take time.
"Technology is very vital in solving crime now, we just had to be patient because there are things where you had to wait for that information to come back and this was able to pinpoint him at that scene," said Warren.
Steve Stephens knows the pain.
"The lady that owned the horse over on buckeye road was unbelievably devastated. I could probably hear her screaming from here," he said.
In 2015, his wife's prized horse was found slaughtered on their property at the Imperial Farms Equestrian Center.
"I actually drove over to see if I saw any resemblance to the slaughter and yah. Quite the same. Don't know if it was the same, but it sure looked. They took all the parts that they took on our horse," he said.
Seeing Gasca behind bars brings relief, but Stephens knows it could happen again.
"Since it happened you can't pretend like it's not going to happen. You can't bury your head in the sand and say it will go away," he said.
A Pinellas County Judge set Gasca's bond at $22,500. If he does not make bail, he will be brought back to Manatee County to face charges.