Pinellas sheriff: Deputies to be stationed at early voting sites after armed guards prompt voter complaints
ST. PETERSBURG, Fla. - The Pinellas County Sheriff's Office is changing its policy after complaints of voter intimidation at a St. Petersburg early voting site.
Supervisor of Elections Julie Marcus said the incident happened Tuesday at an early voting location on 1st Avenue North, when a poll worker was told two armed security guards were standing outside.
She said Sheriff Bob Gualtieri told her the pair claimed they were licensed security guards hired by the Trump campaign to protect campaigners. But the president's campaign denied any involvement.
"The campaign did not hire these individuals, nor did the campaign direct them to go to the voting location," Trump campaign press secretary Thea McDonald told FOX 13.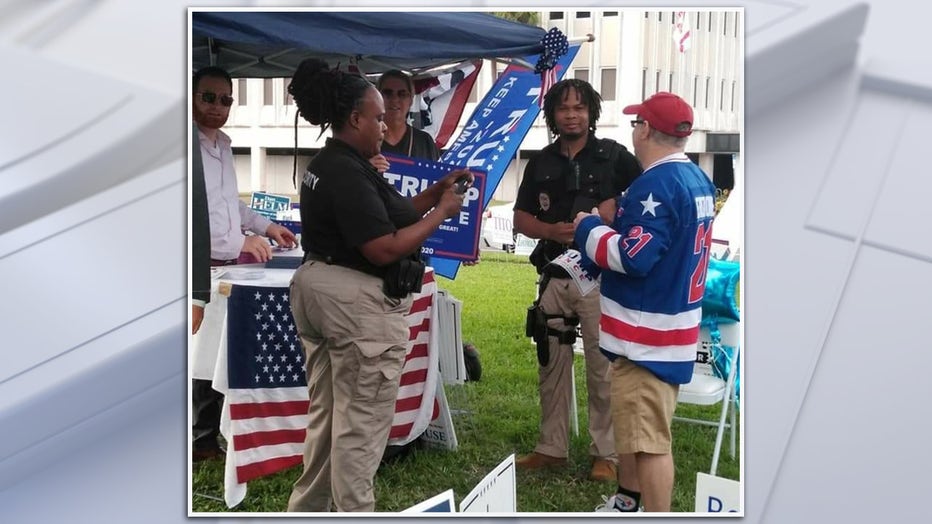 Photo via city of St. Petersburg
Photos shared by the city of St. Petersburg show two badged individuals in uniforms that say "security" standing outside of a tent of filled with Trump campaign materials. The guards appear to have weapons strapped to their utility belts and a leg holster.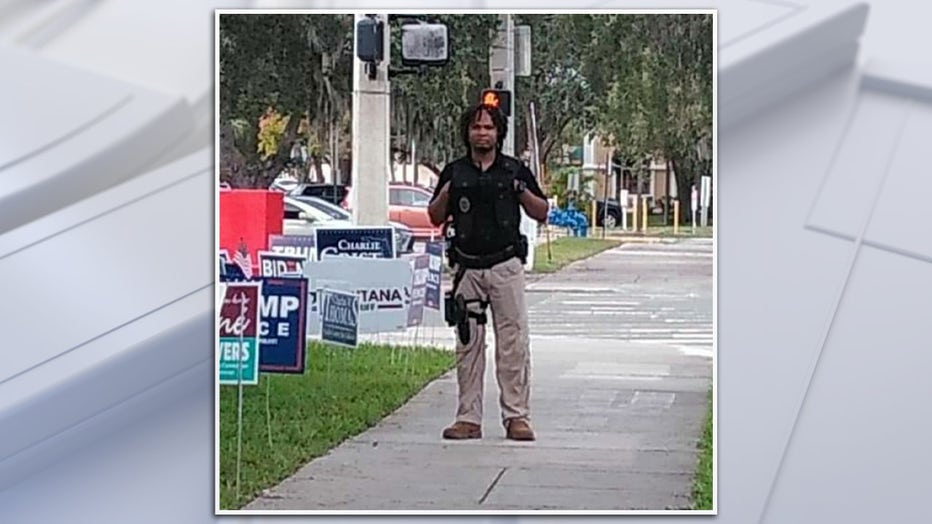 RELATED: Officials in several Florida counties investigate emails as potential voter suppression
It is a third-degree felony to bring a gun into a polling location. Campaigners are also required to stay 150 feet away from the doors.
Sheriff Gualitieri did his best to quell concerns Thursday.  He told reporters the security guards never did anything to violate the law.  He says they were licensed and were outside of the 150-foot "no campaign zone."
RELATED: Florida law prohibits unofficial 'poll watchers' outside voting locations
Gualtieri said the guards' mere presence did not violate the law since they did not bring firearms into the building.
"They didn't do anything that would lead anybody to believe in any way that they engaged in intimidation, coercion, or anything improper.What gave people concern was just their presence. Mere presence alone isn't enough," the sheriff said. 
Meanwhile, the sheriff's office is changing its original decision to not have deputies at polling sites. Gualtieri said they had initially opted not to have a presence because they didn't "want people to feel intimidated or uncomfortable."
RELATED: Obama to campaign for Biden in Florida, one day after Trump's visit
"We've had people for many years fight and lose their lives for citizens to be able to have voices heard that is definitely a sign of intimation," offered local candidate Trevor Mallory. 
"They just came to deliver signs and paperwork we needed and get their picture with Trump," countered Trump supporter Melody Stang.  "It is pretty interesting how things can get twisted," Stang said. 
But in light of the complaints, Gualtieri said deputies will now be stationed at all early voting sites starting Thursday and going until Nov. 2, the last day of early voting.
"Deputies will be there as a resource and to be a calming presence so people know they do have unfettered, unrestricted, unintimidated access to those early voting sites," Gualtieri said. "I hope what it does is make people feel comfortable."
Meanwhile, Christian Boston, a supporter of Libertarian candidate Jo Jorgensen, gave us his reaction to the seeing the security guards.  He's been doing his campaigning in between the Biden and Trump camps. 
"I felt very safe; it's not an issue for me," he said.  "I personally don't come here strapped but that's their Second Amendment right."