Piney Point: Residents cleared to return home as wastewater levels drop
PALMETTO, Fla. - As crews continue to drain contaminated water from the former Piney Point phosphate plant, the risk of a sudden collapse and subsequent flood is diminishing. Officials now say it will be safe for evacuated neighbors to return home Tuesday evening.
Federal engineers are using four major lines and many smaller pumps to drain the 77-acre reservoir, which holds a mix of seawater, rainwater, and wastewater from the old fertilizer plant. There are now 26 pumps and 10 vacuum trucks in place to drain millions of gallons of the water into Port Manatee along the southern shore of Tampa Bay. 
Officials said there are currently 300 million gallons left to pump. There were around 480 million when the leak began last week. 
With the threat of a catastrophic failure diminishing, Manatee County officials decided it was safe to reopen nearby U.S. Highway 41 Tuesday morning, and the evacuation orders were lifted a few hours later.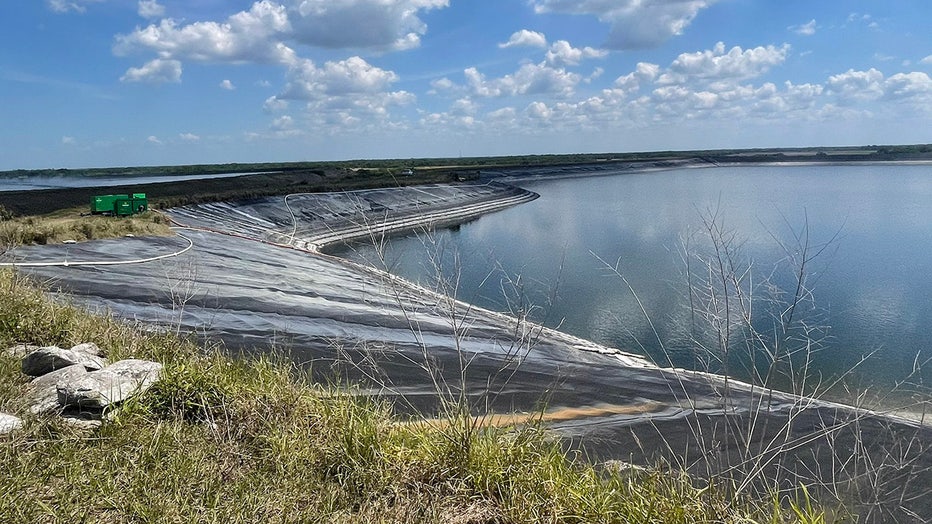 More of the liner is exposed as the wastewater drains on April 6, 2021. Photo courtesy Manatee County Public Safety Department.
Last week, officials ordered 316 homes to evacuate in case the wall failed. That would have sent a tidal wave into the properties and could have broken apart radioactive material stacked near the pond.
Monday, the Florida Department of Environmental Protection said the wastewater had stopped going into Piney Point Creek, but it was being contained on-site. Technicians were still closely watching the area Tuesday because of "seepage" on one of the pond's retaining walls.
They say any sudden wall failure now would unleash only about one foot of water, which would be absorbed by neighboring farmland and other areas.
Their next step will be to bring in a submersible vehicle that can inspect and possibly repair the lining of the pond.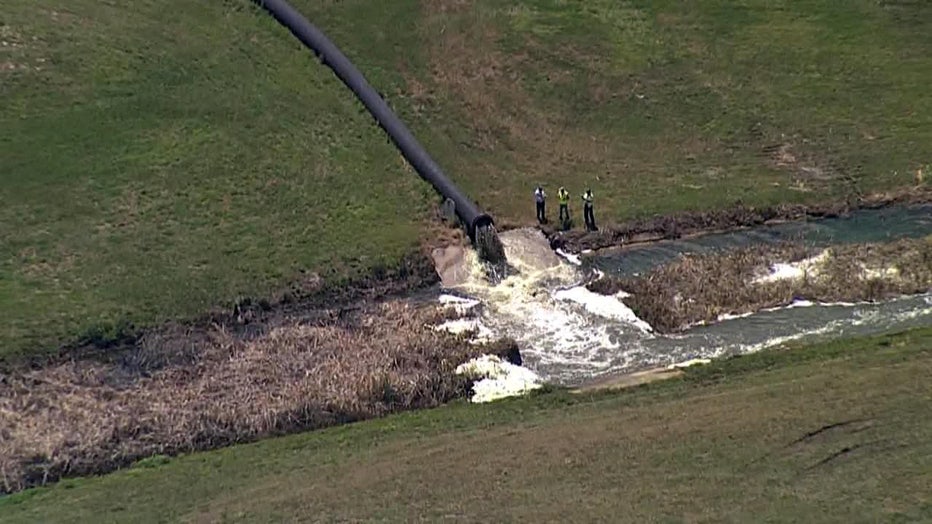 MORE: What is Piney Point: A history the former phosphate plant site
The wastewater being pumped into Tampa Bay -- 33 million gallons a day -- contains phosphorus and nitrogen, making it slightly acidic and harmful to the environment. Experts said it will likely feed dangerous organisms in the water and could fuel algae blooms. It can also deplete oxygen levels in the water, killing fish and other creatures.
Fishing guides said they are also concerned about the potential for red tide from the change in water.
"The short-term impacts, obviously, when you dump those types of phosphorus and nitrogen in the water, you're going to have a loss of seagrass," said Todd Romine of Back Country Sport Fishing. "You will have a loss of marine life. It's inevitable. These things will happen."
The Department of Environmental Protection has launched an interactive water quality dashboard showing water sampling locations and results. They say sampling results so far meet all water quality standards.  
LINK: See the dashboard
The DEP also says it will hold HRK Holdings, the company that has managed the former plant, accountable. 
READ: Business owners, residents want permanent solution 'reoccurring nightmare' at Piney Point
Agricultural Commissioner Nikki Fried said during a Tuesday press conference her office is requesting a list of gypsum stacks across the state, and has heard other sites may have leaks.
"This is something that has been in the works for 20 years," Fried said when speaking about Piney Point. "Nothing was done. We should be leaving our planet a better place for generations to come."
Senator Janet Cruz said most of the blame lies with previously elected officials, and called for all gypsum stacks in Florida to be inspected.
READ: Sen. Rubio: Piney Point 'a ticking time bomb'
The Florida Senate is set to consider an amendment to the state budget that would help fund the cleanup and closure of the Piney Point site. Bradenton senator Jim Boyd and State Senate President Wilton Simpson made the announcement in a statement: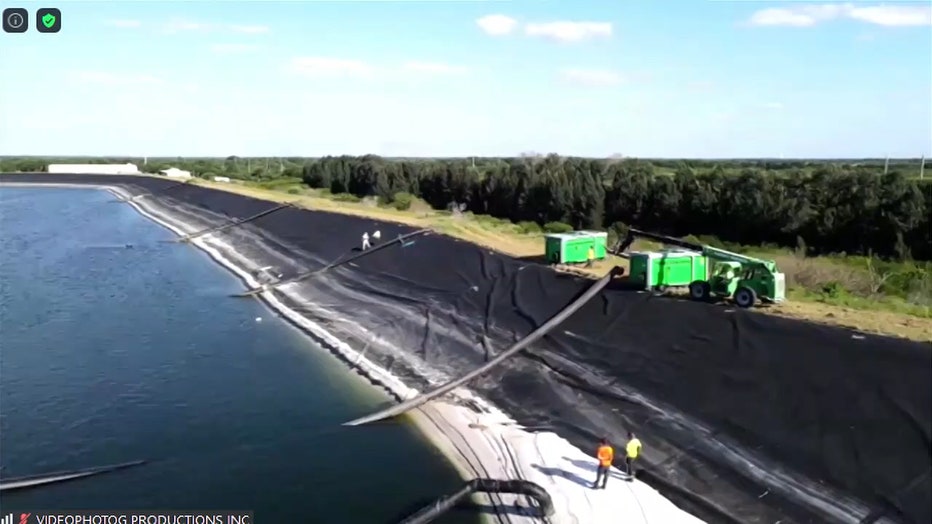 "This has been a catastrophe waiting to happen for too long. I have committed to Senator Boyd that the Senate will advocate for utilizing federal funding -- to ensure a full and complete clean-up and restoration. We don't want to be talking about this problem again in 5, 10, or 20 years." 
Simpson said the project will cost an estimated $200 million, noting that the state plans to use funds from the American Rescue Plan.
County commissioners on Tuesday unanimously authorized the use of a deep-injection well on county owned property directly south of Piney Point across Buckeye Road.