Police, family search for missing FL man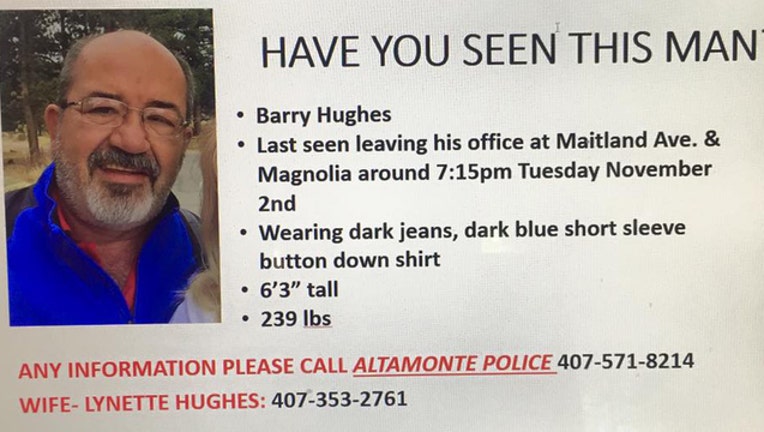 article
MAITLAND, FL (FOX) - Police need the public's help in locating a missing Orlando area man.
Family members say Barry Hughes was last seen leaving his office in the area of Maitland Avenue and Magnolia Drive the evening of Tuesday, November 3.
He hasn't returned home since.
Family and friends have posted information on social media and in public locations around the Maitland area in an effort to spread the word.
"My heart hurts so bad, I feel like I'm stuck in a bad dream," his daughter, Rachael Tinsley, posted on her Facebook page. "Flyers are going up around the Maitland and surrounding areas. Please God, I would give anything to have him home. I appreciate everyone's love and concern at this time. I'm going to find my Dad."
The post has since been shared over 1,500 times. (See the original post below)
Hughes is described as a 6'3" tall, 239 pound white man, last seen wearing dark jeans and a dark blue, short sleeve button down shirt. 
Family asks anyone with information on Hughes' whereabouts to contact the Altamonte Springs Police Department at 407-571-8214, or his wife, Lynette Hughes, at 407-353-2761.