Recipe: Grilled blackened fish tacos with aji sauce
TAMPA, Fla. - With tacos, you have some flexibility to mix things up. You can definitely do that with this recipe by Chris Susman, a.k.a. the BBQ Buddha.
Susman recently moved to Gulfport and quickly tapped into the fresh seafood in the area.
This recipe will guide you to make grilled blackened fish tacos – with aji sauce.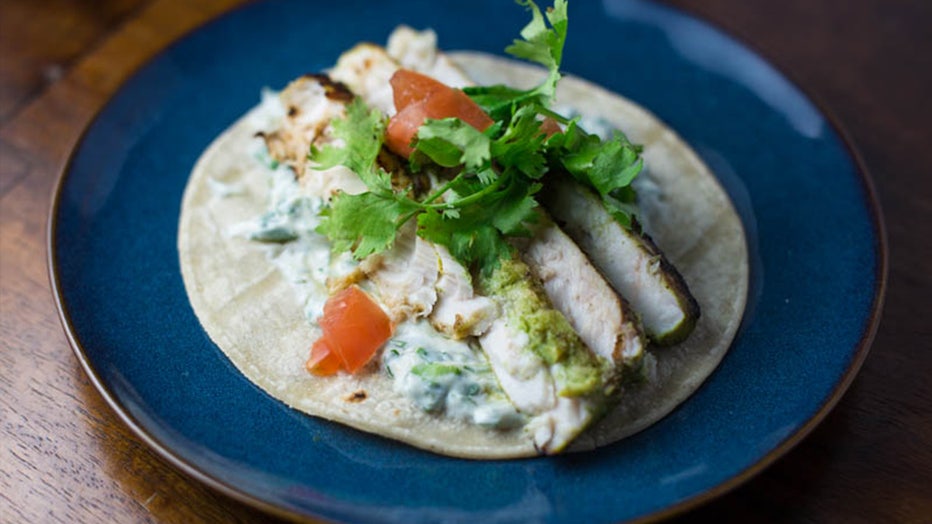 Photo provided by Christopher Sussman 
Ingredients
1 pound firm white fish (e.g. grouper, American red snapper, etc.)
Dizzy Pig Bayouish seasoning (or your favorite Cajun rub)
Flour Tortillas (street taco sized)
½ cup Cilantro, roughly chopped
½ white onion, diced
Lime wedges
Aji Sauce Ingredients
3 seeded and chopped jalapeno peppers
1 cup fresh cilantro leaves
2 chopped cloves garlic
½ cup mayonnaise
¼ cup sour cream
Juice from 1 fresh lime
½ teaspoon salt
⅛ teaspoon black pepper
2 tablespoons olive oil
Directions
Preheat grill to 350°F setup for direct grilling
Mix all of the Aji sauce ingredients in food processor or blender, set aside
Season the fish filets with the Dizzy Pig seasoning
Preheat a perforated grilling pan, well-greased
Add the fish and grill 3 minutes, flip, grill another 3-4 minutes or until the internal temperature measures 135°F
Pull the fish from the grill and rest while you grill the tortillas 30 seconds or less per side
Assemble the tacos with a smear of the Aji sauce on the warm tortilla, then top with grilled fish, diced onions, cilantro and a squeeze of lime juice