Recounts ordered in Florida Senate, governor races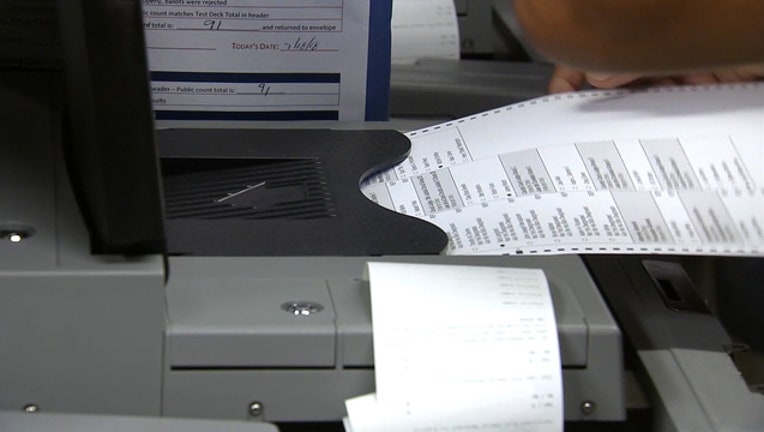 article
TALLAHASSEE, Fla. (AP) - The Florida secretary of state ordered recounts in the U.S. Senate and governor races on Saturday, an unprecedented review of two major contests in the state that took five weeks to decide the 2000 presidential election.
Click here to view current vote tallies from the state of Florida.
Secretary Ken Detzner issued the order after the unofficial results in both races fell within the margin that by law triggers a recount. His office was unaware of any other time either a race for governor or U.S. Senate in Florida required a recount, let alone both in the same election.
The recount sets up what could be several days of political tension in this deeply divided state. President Donald Trump tweeted without evidence that the elections were being stolen. Protesters gathered at an elections office in Broward County, which is quickly becoming a battleground in the recount. The protesters waved signs, used bullhorns and even harangued a food delivery person at one point, asking if there were ballots inside the food bags.
The unofficial results show that Republican former U.S. Rep. Ron DeSantis led Democratic Tallahassee Mayor Andrew Gillum by 0.41 percentage points in the election for governor.
In the Senate race, Republican Gov. Rick Scott's lead over Democratic incumbent Bill Nelson is 0.14 percentage points.
Detzner ordered machine recounts in both races. Once completed, if the differences in the races are at 0.25 percentage points or below, a hand recount will be ordered, said Department of State spokeswoman Sarah Revell.
Following the announcement, Gillum withdrew his concession in the governor's race.
"Let me say clearly, I am replacing my words of concession with an uncompromised and unapologetic call that we count every single vote," he said, adding that he would accept whatever outcome emerges.
In a video released Saturday afternoon, DeSantis thanked the state's supervisors of elections, canvassing boards, and the staffs for "working hard to ensure that all lawful votes are counted. He said he is preparing to become the state's next governor.
"It is important that everyone involved in the election process strictly adhere to the rule of law which is the foundation for our nation," he said, adding that the election results were "clear and unambiguous."
In a statement, Scott implored the state's sheriffs to "watch for any violations and take appropriate action" during the recount.
Scott and his supporters, including Trump, have alleged that voter fraud is underway in Democratic-leaning Broward County, where the Republican lead has narrowed since Election Day. There's no evidence of voter fraud and the state's election division, which Scott runs, said Saturday that its observers in Broward had seen "no evidence of criminal activity."
The Florida Department of Law Enforcement said Friday it has not launched an investigation into election fraud.
Florida's 67 counties will decide when to begin their recounts, but they must be completed by Thursday. Revell said Saturday that recounts can't begin until the county canvassing boards post a public meeting notice, hold that meeting and then do a public test of equipment.
Elections officials in two large counties in the Tampa Bay area - Pinellas and Hillsborough - said they would begin recounts Sunday morning.
Machine recounts must be finished by 3 p.m. Thursday.
The Associated Press had called the governor's race for DeSantis. Following the recount announcement, the AP retracted its call. It is AP policy not to call a race that is facing a recount. No new call will be made until the recount is complete and the results of the election are certified by Florida officials.
The scene was reminiscent of the 2000 presidential recount when it took more than five weeks for Florida to declare George W. Bush the victor over Vice President Al Gore by 537 votes, and thus giving Bush the presidency.
Florida was mocked for the way it handled the infamous 2000 recount, especially since there was no uniform process, then, on how to proceed. That has changed, with the Legislature passing a clear procedure on how a recount should be conducted.
Florida is also conducting a recount in a third statewide race. Democrat Nikki Fried had a 0.07 percentage point lead over Republican state Rep. Matt Caldwell in the race for agriculture commissioner, one of Florida's three Cabinet seats.
___
AP writer Kelli Kennedy in Fort Lauderdale and Tamara Lush in St. Petersburg contributed to this report.
___
For AP's complete coverage of the U.S. midterm elections: http://apne.ws/APPolitics