Safely take your dog on a kayaking adventure
ST. PETERSBURG, Fla. - Dog people love to take their pets everywhere, but even the most confident pet parents might be apprehensive about a kayaking trip with their pooch.
A St. Petersburg company is helping dog parents enjoy a day on the water with their furry friends.
ECOmersion Kayaks hosted a day of learning for newcomers and old pros, alike.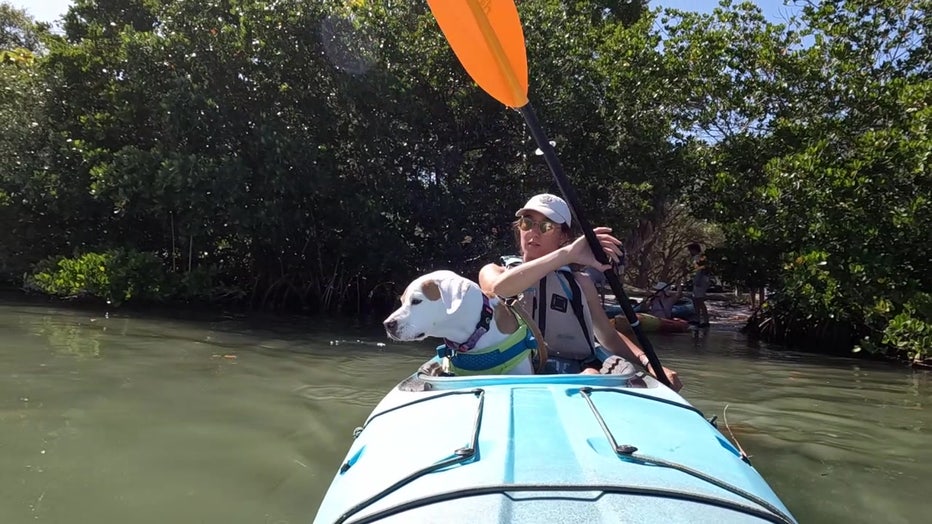 Natasha Cooper and her dog, Callie have been kayaking together for a while. Gracie Topp from Pet Pal Animal Shelter, meanwhile, brought one of the dogs up for adoption. They are both new to kayaking.
"I think she's going to be great," Topp said of the adoptable pup. "She rides well in the car, so I think this is going to be fun for her. We can put that on her profile and hopefully get her adopted."
MORE: New St. Pete bar is going to the dogs
ECOmersion Kayaks director of operations Noah Shaffer said it's all about making dogs and people comfortable, and safety is a big part of that.
"We really want to make sure that the dog has a life vest. That will help if they go overboard. It's easy for you to get them back in the boat. The leash, keeping them close, so you're able to retrieve them," Shaffer told the group. "Even if the dog is wobbling, the boat's not going to go over. Just let them be themselves and be a little bit free in the boat. You don't need them to stay seated all the time."
Shaffer said start small, with a 20-minute trip close to shore. Also keep training treats on-hand to help guide and reassure your dog.
MORE: How to pick the right dog
Topp said the experience was a good one for her and the dog. 
"She did wonderful. She had as much fun as I did, if not more," said Topp. 
"It is super fun, and it definitely makes your bond with your dog stronger," Coope added. 
For more information about ECOmersion Kayaks and their dog-friendly paddleboard tours, visit https://ecomersion.com/.