Sandbags available across Tampa Bay during storm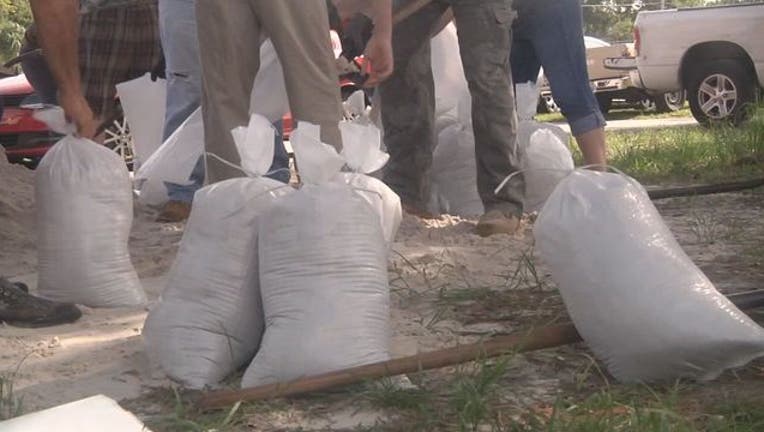 article
TAMPA (FOX 13) - Local governments are making sandbags available as Tropical Storm Emily travels through the Tampa Bay area. Locations will be added as we receive them from Tampa Bay cities and counties.
HILLSBOROUGH COUNTY
County officials said the following locations have sandbags available through 7 p.m. on Monday evening. Materials will be made available for residents. Each person must provide their home address and sign their name acknowledging the receipt of 25 sandbags or less.
- 8718 Old Big Bend Road in Gibsonton
- 4702 Sydney Road in Plant City
- 9815 Sheldon Road in Tampa
TAMPA: Sandbags will be available at three locations from 9 a.m. to 7 p.m. Residents should bring a proof of address, which needs to be within Tampa city limits. A valid driver's license, utility bill, or electric bill will suffice. Residents should bring a proof of address, which needs to be within Tampa city limits. There is a ten-bag limit on the sandbags.

- Bobby Hicks Pool - 4201 W. Mango Ave., Tampa
- Barksdale Active Adult Center - 1801 N. Lincoln Ave., Tampa
- Jackson Heights Community Center - 3310 E. Lake Ave., Tampa
PINELLAS COUNTY
The county is making sandbags available for residents in unincorporated Pinellas County in the following locations:
- John Chestnut Park - 2200 East Lake Road in Palm Harbor
- John S. Taylor Park - 1100 Eighth Avenue SW in Largo
- Lealman Community Park - 3890 55th Avenue North in St. Petersburg
To report any storm-related issues, or if you have questions, call the Citizen Information Center at 727-464-4333.
TARPON SPRINGS: Sandbags will be offered until further notice starting Monday morning at three locations:
- Splash Park - 508 Live Oak Street
- Sponge Docks (West end of Roosevelt Boulevard near Dodecanese Boulevard)
- Dorsett Park (on East Harrison Street near South Disston Avenue)
PINELLAS PARK: Residents can get up to 10 sandbags on Monday from 9 a.m. to 6 p.m. at the Public Works Facilities Building (6151 78th Avenue North). Residents must show a water bill or valid driver's license to prove they are a resident.
ST. PETERSBURG: Sandbag sites are open in the following sites to residents on Wednesday from 7:30 a.m. to 8 p.m. Please bring proof of residency or a utility bill.10 sandbags per resident.
-Lake Vista Rec  - 1401 62nd Ave S
-Northeast Park - 875 62nd Ave NE
-Bartlett Park - 2000 7th St S
-Northwest Pool - 2331 60th St N
SARASOTA COUNTY
The county is offering sandbags through 5 p.m. on Monday, and from 8 a.m. to 3 p.m. on Tuesday:
- Newtown Estates Park - 2800 Newtown Blvd in Sarasota
- Twin Lakes Park - 6700 Clark Road in Sarasota
- South County Fleet Facility - 2411 Tallevast Road in Sarasota