School board members not distracted by DeSantis' so-called target list
TAMPA, Fla. - A pair of Hillsborough County school board members refused to be distracted Friday after their names both showed up on Gov. Ron DeSantis' "target list" of school board members he wants to be replaced by candidates who support his education agenda.
Hillsborough school board members Nadia Combs and Jessica Vaughn are among the 14 board members from districts across the state who were on the list, which included three others from the Tampa Bay area.
"I was disappointed, but not surprised," Vaughn told FOX 13. "One of my biggest concerns when it comes to the leadership of our governor is that he seems more concerned with catering to an extreme portion of his constituency instead of really leaning in and focusing on policies that will help the majority of people in Florida, but especially when it comes to education."
The governor believes the board members he's targeting aren't protecting parental rights and have failed to protect students from the latest ideological trends.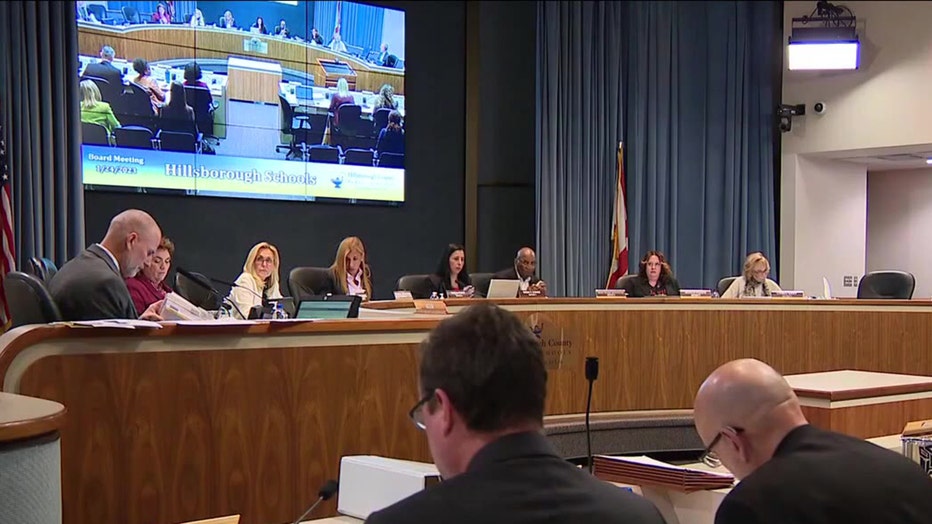 Combs was more surprised than her colleague.
"I feel like I've been very moderate on the board," Combs told FOX 13. "I really just work towards what's best for students and making sure that students are getting a quality education. I'm advocating for teachers. If anything, I really work hard to make sure that we're following by the statutes of the DOE, Department of Education."
DeSantis' strategy session earlier this week included Florida Education Commissioner Manny Diaz Jr., Florida House Speaker Paul Renner and the founders of Moms for Liberty.
The chair of Hillsborough's chapter of Moms for Liberty, Jessica Graham, said certain board members aren't consistently following mandates from the governor or regulations from the Florida DOE.
"You've got unfortunately, you've got school board members that are bringing in their personal opinions about the laws versus realizing that they are already passed. They are valid on-the-books laws and it's their job to now implement them in the school district," Graham said.
The governor has had a lot of recent success swaying school board races; more than 20 of the 30 candidates he endorsed in 2022 won their races.
"He's opening doors for Florida as far as education, parental rights and education freedom," Graham said. "A lot of people didn't pay attention to and really didn't understand the magnitude of school board members and how important it is to be a part of the process in deciding who makes these who is going to be on the school board. It's so vital and it's so close to home that I just don't think people have realized and I am so grateful to the governor and to the legislature for bringing more attention to the school board races."
Vaughn, however, worries putting a target on the backs of the 14 board members on the governor's list could create safety issues.
"When I have to worry about the safety of my child or, you know, my husband and what that looks like, it takes a huge toll on them," she said. "If you want to target me, come to my community, talk to my constituents, talk to the people who I talk to every single day and get their feedback and then make a list of people that you think aren't doing a good job."
Neither Vaughn nor Combs have decided whether they'll run for re-election.
Both, however, said they will remain focused on what's important: the students.
"Regardless of who gets involved and who says something, I'm going to wake up every day, I'm going to work very hard for my district and for my students," said Combs.
FOX 13 reached out to the offices for the governor and Commissioner Diaz, but haven't yet received a response.