Shopper finds snake hanging onto supermarket cart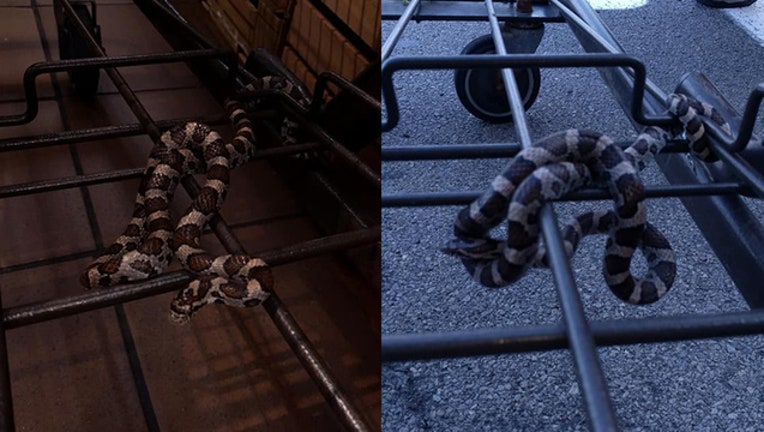 article
NEW YORK (FOX5NY.COM) - A woman from western New York shopping for groceries was startled to see that the supermarket cart she grabbed was already being used—by a snake.
Laura Walitsky and her daughter were at a Wegmans in Pittsford, a suburb of Rochester, Monday evening. Her daughter spotted the snake, which was coiled around the metal slats on the bottom of the cart.
Walitsky told Fox5NY.com that she and her daughter were "surprised, but not at all scared."
"It is obviously not something you expect to see on a shopping cart," she said. "We didn't know what type of snake it was, but recognized it wasn't poisonous."
Walitsky said that after taking a photo of the snake she wanted to quickly get the snake out of the store to safety.
"When I was pushing the cart to the exit, I kept glancing down at it just hoping it would continue hanging on," she said. "The situation could have been quite different if someone else had grabbed that particular cart, if we had been further away from the main entry when we spotted it or if it slid off the cart inside the store."
Walitsky called to a couple of employees, who came over to see what was going on.
"One of the employees pushed the cart to a corner of the property, away from the entrance," Walitsky said. "There was a grassy area safe for the snake."
They released the snake into a wooded area.
A Wegmans spokesperson said in a statement that "this was an isolated incident."
The AP cited a biology professor who identified the snake in Walitsky's photos as a milk snake, which is not venomous.
New York is home to only three venomous snake species—timber rattlesnake, eastern massasauga rattlesnake, and northern copperhead—but all are very rare.
With the AP