St. Pete Pride 2018 will be filled with colorful events and crowds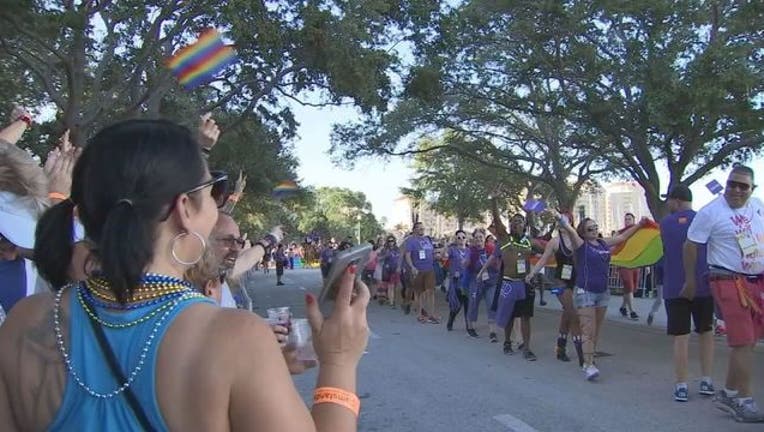 ST. PETERSBURG (FOX 13) - Downtown St. Petersburg will become more colorful than usual as Pride weekend kicks off starting on Friday.
The weekend events are expected to draw more than 200,000 people to celebrate LGBTQ Pride. It's an event always held in June in the city. With the extra traffic for the downtown area, organizers suggest attendees carpool, and recommends parking on one of the several parking garages in the area.
Free Concert: Friday, June 22
There will be a free SP2 Concert hosted by Coco Montrese, a star on the show RuPaul's Drag Race. The music line-up includes: Swipe Right (7 p.m.), Rolando (8 p.m.) and the Spazmatics (9 p.m.). The concert will be held from 7 p.m. to 10 p.m. in North Straub Park, located at 400 Bay Shore Drive NE.
Beverage sales benefit the St. Pete Pride Community Grants Program. No outside beverages or alcohol can be brought to the event. They also prohibit the following items in the concert venue:
- Inline Skates
- Laser pointers
- Radios
- Skateboards/Scooters
- Fireworks
- Weapons/Firearms
- Pets or animals 
St. Pete Pride Parade: Saturday, June 23
Before the parade kicks off, the "Saturday Party" begins at 2 p.m. The parade begins at 7:15 p.m. The parade of almost 5,000 people will start from North Straub Park and end at South Straub Park along Bay Shore Drive. Fireworks will be at 9:45 p.m.
Street Fest: Sunday, June 24
This year's festival will be extended after organizers said there was an overwhelming response to the event. They said it is expected to draw more than 50,000 people, with the St. Pete Pride Street Festival beginning at 11 a.m. and ending at 5 p.m.
It will take place in what is considered to be downtown St. Petersburg's Grand Central District with vendors, stages, live music, art and food along the 2400 block of Central Avenue.
For additional information, click over to stpetepride.com.