Rays expected to announce deal for new stadium in St. Petersburg
ST. PETERSBURG, Fla. - After continued discussions over the future of the franchise, the Tampa Bay Rays are expected to announce a deal for a new stadium in St. Pete that will open in 2028.
Sources confirm to FOX 13 that the Rays will be playing in a new, $1.2 billion stadium starting in 2028. According to sources, at least half of the new stadium will be funded by the Rays and a collection of investors. 
The team is expected to officially announce Tuesday morning their deal to build the new stadium on the Tropicana Field site, with the team's lease on the field set to expire in 2027.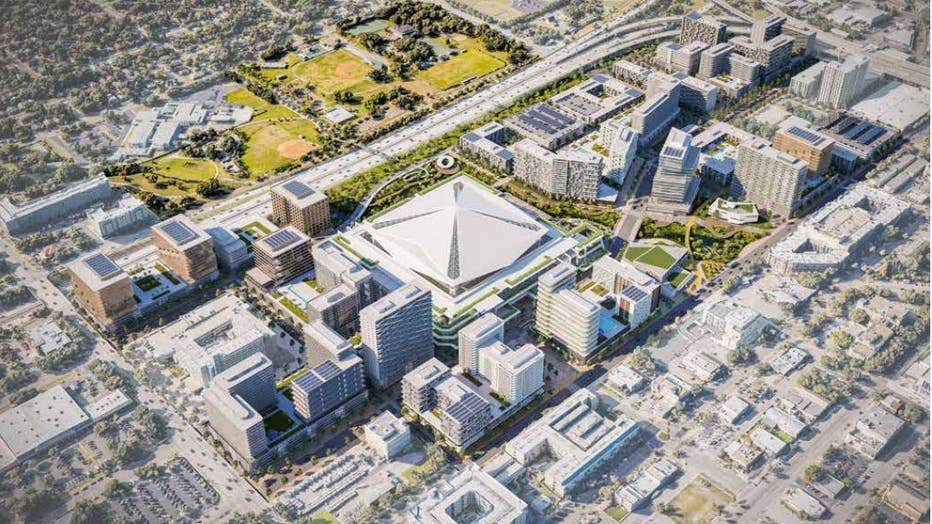 Aerial rendering of proposed ballpark, provided by Hines and Tampa Bay Rays,
"What we wanted to do was make the decision easy for [Mayor Welch]; we wanted to give him a solution that could help solve the future of baseball, while also hitting his outspoken desire for an inclusive and equitable process," Rays President Brian Auld said in January. 
READ MORE: Rays not ready to commit to St. Pete despite mayor choosing team's own plan to redevelop Tropicana Field site
The exact formula is not yet known and will likely be released Tuesday during a joint announcement from the city and team. 
Sources confirm the 30,000-seat stadium would have a dome and be surrounded by numerous attractions. Initial plans called for an African-American museum of history on the Historic Gas Plant site, an area that was used as a neighborhood barrier to segregate St. Pete decades ago.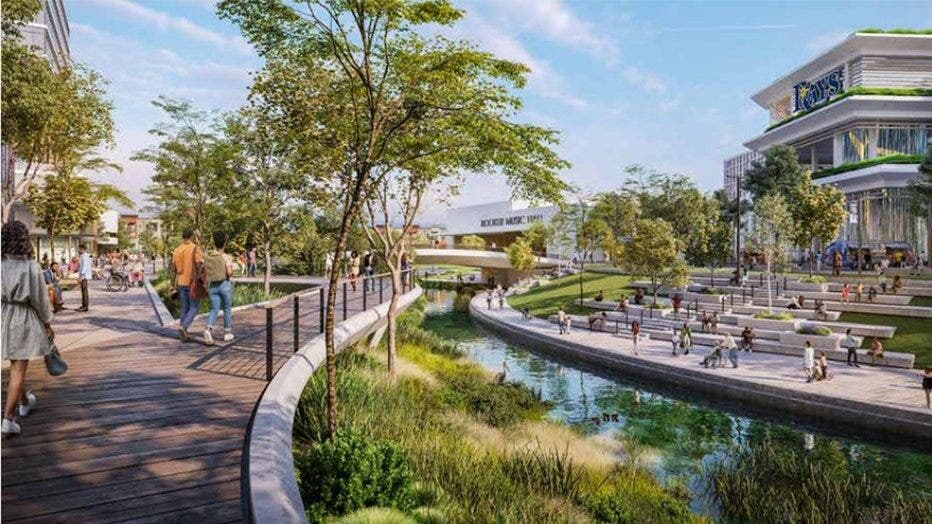 Booker Creek Greenway looking north toward the Ballpark and Booker Music Hall. (Provided by Hines and Tampa Bay Rays)
Renderings were released in January when St. Pete Mayor Ken Welch said he had chosen the Rays to lead the redevelopment of the Tropicana Field site. 
"The finances are large, it's an extensive project," Mayor Welch said in January. "One of the reasons I selected the Rays is because of their financial capability, their track record of doing those kinds of large projects. And the fact that they came forward with 1.8 billion dollars in equity. You will need those kinds of resources to move this project forward. This is a monumental project for us."
There will also be a bevy of businesses, entertainment venues, housing, and a redone riverfront meant to attract pedestrians.
READ: How will St. Petersburg pay for a new Tampa Bay Rays ballpark? It's still unclear, city says
This has been at least a 16-year saga. The Rays have attempted to find a deal in Tampa, only to find there was little appetite for a funding agreement.
They also went all-in on an idea to split the team between St Pete and Montreal, but the MLB killed that idea.
Any deals will have to be approved by both the Pinellas County Commission and the St Pete City Council. 
"I am a child of the gas plant," Welch said in January. "My grandfather's business is one of those businesses that was operated when the interstate came through. And our church, along with 800 other residences, churches, businesses, were operating in the pursuit of economic development that later turned into pursuit of Major League Baseball. And so I'm from that community. I know the promises that were made."