Tampa Bay Rowdies outline expansion plans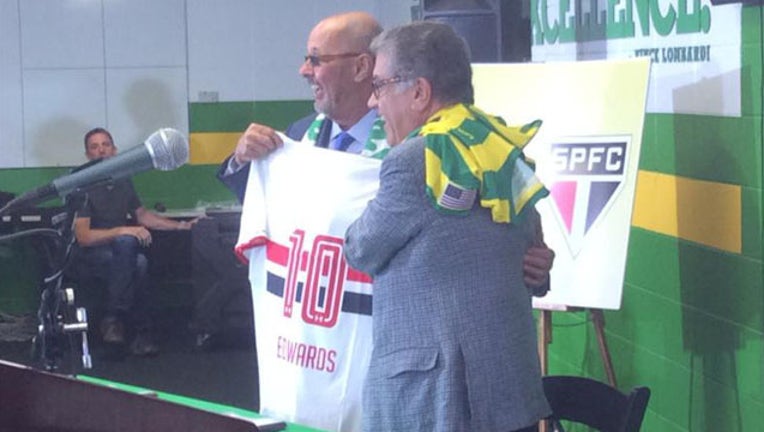 article
Tampa Bay Rowdies owner Bill Edwards Tuesday outlined an ambitious plan to grow the franchise along with the rest of its North American Soccer League, foregoing plans to eventually join the Major League Soccer league.
"We're trying to grow the NASL," Edwards told FOX 13 News. "We're going to have 14, 18 teams in a couple of years, and we should be able to take on an MLS team anytime."
That comment came after a formal news conference focusing on a new strategic partnership between the Rowdies and the Sao Paulo Football Club, a Brazilian sports giant with millions of fans and a storied history of championships.
The teams will exchange players, coaches, and technical expertise.
"The American people are specialists in merchandise and marketing, this is for us- it will be a class, we are going to learn how to do it proficiently," SPFC president Carlos Miguel Aidar told FOX 13 News.
"Everybody knows here in the United States the sport that's more growing now is soccer," Aidar explained. "And Sao Paulo be part of this, it is important for us."
The Brazilians will also help the Rowdies establish a charter high school focusing on soccer.
"They've agreed to help us get that started and to exchange students" Edwards said. "They've got an academy there that's got 270, 280 students all the time...So it's something we'd like to see here in America."
The school would be for boys and girls, who would compete in a start-up "farm club" system. "It's our job to get it done by 2016. So this is my first step into getting it accomplished, along with looking at land to put a new academy right here in St. Petersburg," Edwards said.
The Rowdies owner and other sources explained the difference between ownership roles in the MLS and the NASL. Referring to the NASL, Edwards said, "It's a different business model. I like the business model, the rest of the people in this league who are owners, all businessmen that understand what we're doing, and we like the way this league runs and how we run our own league."
Edwards also said discussions of expanding Al Lang Stadium may start by the end of 2016.