Target reveals holiday shopping plans, deals, last-minute GiftNow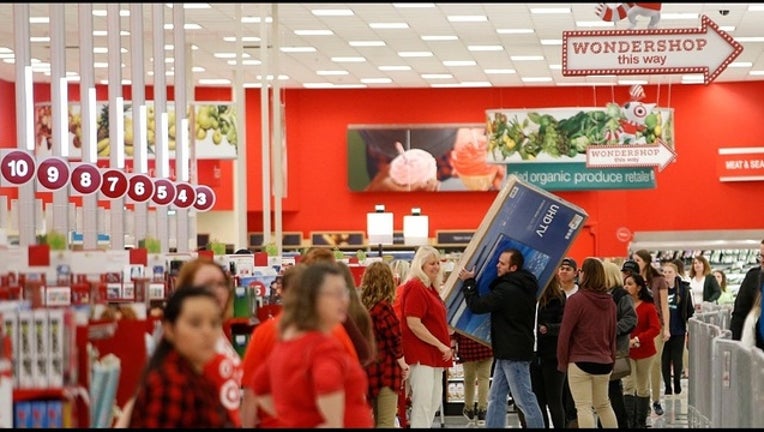 article
MINNEAPOLIS (KMSP) - After a "disappointing" and "softer-than-expected" 2016 holiday shopping season, Target is revealing a 2017 holiday strategy focused on speed, ease and fun. Oh, and Target is committing to giving Thanksgiving its time to shine, listening to shoppers who want the retailer to wait until after Turkey Day to rollout the full Christmas blitz.
"They want us to pause, and be really intentional and recognize Thanksgiving," Target chief marketing officer Rick Gomez told the Associated Press. "What they don't want us to do is go right into Christmas. So, we are going to respect that."
This year's Christmas shopping season at Target includes a Santa photobooth, curated collection of gifts with thousands of options under $15, a new holiday collection from HGTV Fixer Upper couple Chip and Joanna Gaines,  and a new GiftNow feature on Target.com for the most desperate last-minute shoppers.
GIFTNOW: GiftNow on Target.com allows givers to click the GiftNow button send an e-gift box. Your recipient will get an email that lets them accept the gift, change the color or size, or pick out something entirely different -- all before the item ships.
CURATED GIFTS UNDER $15: Target says it's "taken the guesswork out of gifting" this year with four special collections curated for women, men, kids and teens and" featuring nearly 1,700 items, most of which are exclusive to Target and under $15." These collections include gifts like grooming sets, stationery and $1 stocking stuffers. The curated collections will be displayed in the main aisles and key departments of Target stores, as get their own spot on Target.com.
REDCARD MOBILE WALLET: In November, Target will introduce a new mobile wallet function in the Target app. The app will allow REDcard holders to redeem Cartwheel offers and pay for their purchases with the scan of their phone.
SANTA'S BRINGING SHIPLAP: On Nov. 5, Target will unveil the Hearth & Hand with Magnolia collection, co-designed with Chip and Joanna Gaines of HGTV's Fixer Upper. Hearth & Hand features 300 products, most for under $30, including tabletop, home décor and gifts, like a toy dollhouse and workbench, a letters to Santa mailbox, festive tableware and more.
WEEKEND DEALS: Starting Nov. 11, Target will introduce Weekend Deals on Saturdays and Sundays. Specific deals will be released at a later time.
PHOTOBOOTH WITH SANTA: Most stores will offer an interactive Santa photobooth throughout the month of December. Kids (and kids at heart) can take a photo in the booth, which is designed to look like an upside-down fireplace built with LEGOs, then rotate the image and see themselves sliding down the chimney with Santa.
MORE RED AND KHAKI-CLAD HELPERS: As outlined at its February financial meeting, Target is allocating millions of payroll hours to increase training and staffing at its stores nationwide. Hopefully, that means checkout lines working at full capacity during the holiday rush.
Last year, Target reported good Black Friday sales and growth in Target.com sales, but had disappointing customer traffic and sales in its stores. In a press release, Target CEO Brian Cornell said delivering "engaging holiday experiences" inside stores is a key part of the retailer's strategy this season.