TECO changes course, will not shut down power to parts of downtown Tampa ahead of Hurricane Ian
TAMPA, Fla. - Tampa Electric officials said earlier Tuesday it may need to shut down power to portions of downtown Tampa — including Davis Islands, Harbour Island and Channelside — ahead of Hurricane Ian. However, the utility said later it no longer planned any interruptions in power.
According to TECO, proactively shutting down power to certain parts of their network would help the company avoid serious damage to underground equipment from saltwater storm surge, which they say could significantly shorten restoration time after the storm.
It's unclear why TECO decided the measure was no longer necessary.
The outage was expected to affect a small portion of evacuated Zone A in downtown Tampa, excluding Tampa General Hospital. Regardless, the cutoff isn't happening.
RELATED: Hurricane Ian strengthens to Category 3 storm; Tampa Bay will begin feeling impacts Wednesday
At 11:20 a.m. Tuesday, TECO tweeted, "We have made the decision to proactively interrupt service to a targeted low laying area of downtown Tampa at 2 p.m. today to shorten restoration time and avoid damage from potential salt water surge."
However, the utility company later deleted the tweet. Chief spokesperson Cherie Jacobs confirmed the decision to take down the tweet, saying TECO would no longer shut down power at 2 p.m. Instead, Jacobs told FOX 13 that a decision may be made later tonight or tomorrow, based on storm surge forecasting.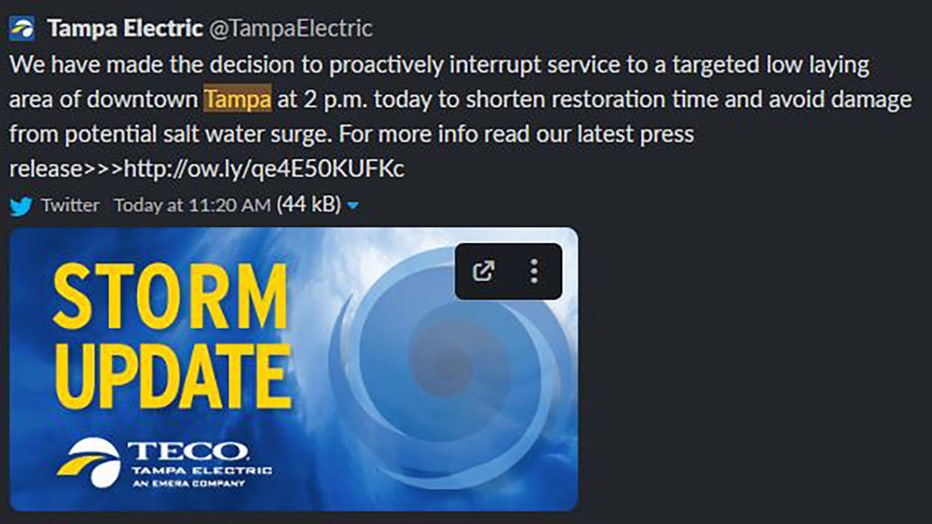 Screenshot of a now-deleted tweet by TECO, which originally said the company would shut down power to a portion of downtown Tampa at 2 p.m. Tuesday. 
"The safety of our customers and our equipment is our top priority, and if you live in an evacuated zone, I urge you to take immediate action," said Archie Collins, president and CEO of Tampa Electric. "Hurricane Ian is a large and unpredictable storm. While the path remains uncertain, we anticipate significant storm surge, and I encourage our customers to prepare for extended power outages."
The company says it has crews prepared to work around the clock to restore power as quickly and safely as possible after the storm.
RELATED: Hillsborough County: Hurricane Ian updates and emergency information
TECO plans to exponentially increase the number of crews in the field to help restore power with the help of thousands of line workers from other utilities. Those crews are headed to Florida and will be riding out the storm outside of harm's way, the company said.
Customers are warned to prepare for extended power outages due to Hurricane Ian. Residents are warned to keep away from downed power lines and to stay out of floodwaters, which can hide energized power lines.