'They can't make you do it in Florida': DeSantis against COVID-19 mandates
JACKSONVILLE, Fla. - Governor Ron DeSantis doubled down on his anti-mask policies at a news conference Thursday.
"You have a civil right in Florida now to breathe fresh air. No one can force you to muzzle yourself against your consent," DeSantis said. "Nobody can force you to do it whether you're coming to a restaurant, whether you're going to a government building, universities, none of that stuff. So that's really important. Our school kids are going to be able to learn in a productive environment because of the protections we've done."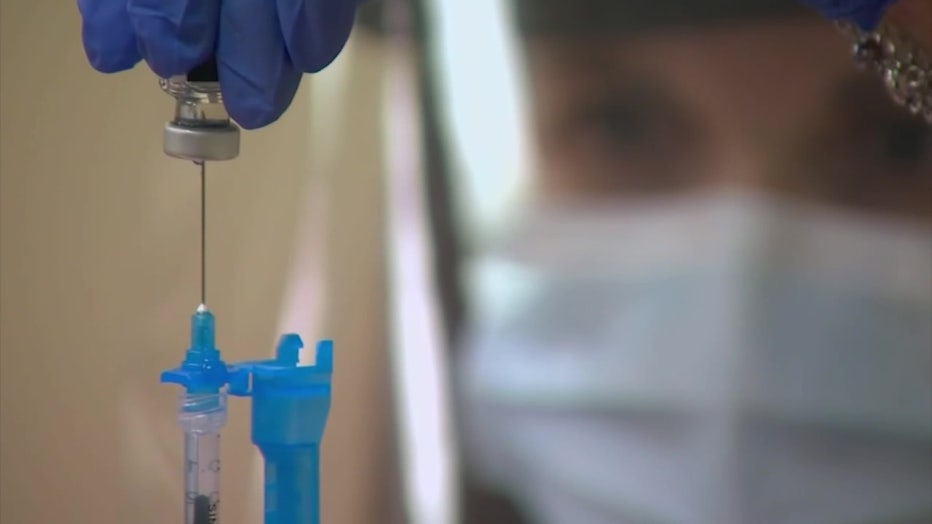 COVID-19 vaccines were one of the things Gov. DeSantis addressed during his latest press conference.
READ: Anthony Fauci 'concerned' people won't comply if masking recommendations return: 'I hope' they 'abide'
The governor spoke at Culhane's Irish Pub & Restaurant in Jacksonville alongside the restaurant's owners, who praised him for keeping businesses, like theirs, open during the pandemic.
"We're four sisters. We also have kids to take care of, livelihoods. And we put every dollar into this business. We actually purchased this building right before the pandemic. And that was the scariest thing because that was our homes on the line," Mary Jane Culhane, co-owner of Culhane's Irish Pub & Restaurant, said. "Thank you, DeSantis, for saving our livelihood and our families."
Part of Thursday's discussion included the new COVID-19 vaccines that are expected to be available soon. During the press conference, the state surgeon general told DeSantis supporters that these shots raise red flags for him.
"There's essentially no evidence for it. There's been no clinical trial done in human beings showing that it benefits people. There's been no clinical trial showing that it is a safe product for people," Dr. Joseph Ladapo said.
"This is a bit disingenuous on his part because this is not something that is new to what we do with vaccines," Dr. Michael Teng, a virologist and USF Health professor, said.
READ: Moderna says updated COVID-19 vaccine offers 'strong immune response' to new variant
The process for formulating these COVID-19 boosters is done in the same way as flu shots, which are new every year, Teng told FOX 13.
"We don't do clinical trials on it because the formulation doesn't change. So it's basically the same vaccine with a little tiny tweak to it so that it matches closer to the strains that are circulating," Teng explained.
The FDA is expected to sign off on these new COVID-19 boosters soon.
The CDC'S advisory committee has a scheduled meeting to discuss them Tuesday. Next, the shots need to get the green light by the CDC director.