Tropical Depression #9 forms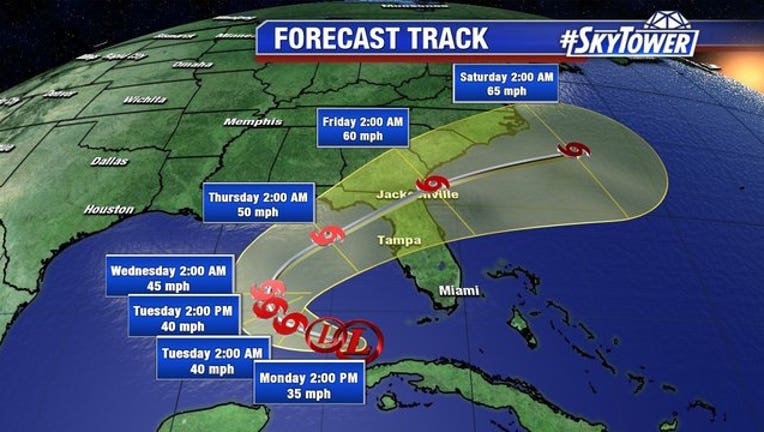 article
TAMPA (FOX13) - Invest 99L has officially become Tropical Depression #9 just north of Cuba Sunday evening.
The National Hurricane Center in Miami says the depression is located about 55 miles north of Havana, and about 60 miles south of Key West. Maximum sustained winds were 35 mph as of Sunday evening and it was moving west at 9 mph.
The storm is expected to slowly move westward into the Gulf of Mexico while also gradually intensifying. The official forecast calls for it to become a tropical storm by Monday night/Tuesday morning.
By mid-week, the storm is expected to take a turn to the north and eventually the northeast. There is still a decent amount of uncertainty in the future intensity of the system, but the NHC forecast is a rather conservative one, maxing out the winds at 50 mph.
At some point on Thursday, the storm is forecasted to make landfall somewhere along the Northeast Gulf coast. Areas from Mobile to Naples should pay attention to the forecast in the coming days for updates.
Meanwhile, tropical depression eight formed just west of Bermuda, bringing the possibility of heavy rain to the coast of North Carolina early this week.
The storm's center is expected to pass offshore of the Outer Banks of North Carolina on Tuesday.
 
Separately, Hurricane Gaston has become the season's first major hurricane as it continues northwestward in the Atlantic, but forecasters say it poses no threat to land. 
 
On Sunday, Gaston was clocking maximum sustained winds of 115 mph (185 kph) winds. The storm was located about 580 miles (935 kilometers) east of Bermuda. Gaston was moving northwest at about 5 mph (7 kph).
 
Hurricane-force winds extended outward up to 25 miles (35 kilometers) from the center, and tropical-storm-force winds extend outward up to 140 miles (220 kilometers).