Want to visit the new St. Pete Pier? A reservation is required, for now
ST. PETERSBURG, Fla. - The new St. Petersburg Pier District will open at 5 p.m. Monday, July 6, marking the end of 10 years of planning, debate, construction, and finally, delays due to COVID-19.
"Monday is the day. We are so excited!' Deputy Mayor Kanika Tomalin told FOX 13 Wednesday. 
The new pier is the eighth major pier in St. Pete's history, replacing its inverted-pyramid predecessor. 
The $92-million Pier District was originally going to open on May 30, but the COVID-19 pandemic delayed that. Now, coronavirus crowd control means no celebration full of pomp and circumstance. 
"We've had to put a lot of thought into it: How do we gather people together without it being a mass gathering," Tomalin said. 
The 26-acre district holds 10,000 people but the city is only allowing a few thousand people at a time.
Those wanting to reserve their free ticket can go to stpete.org and select the day and time.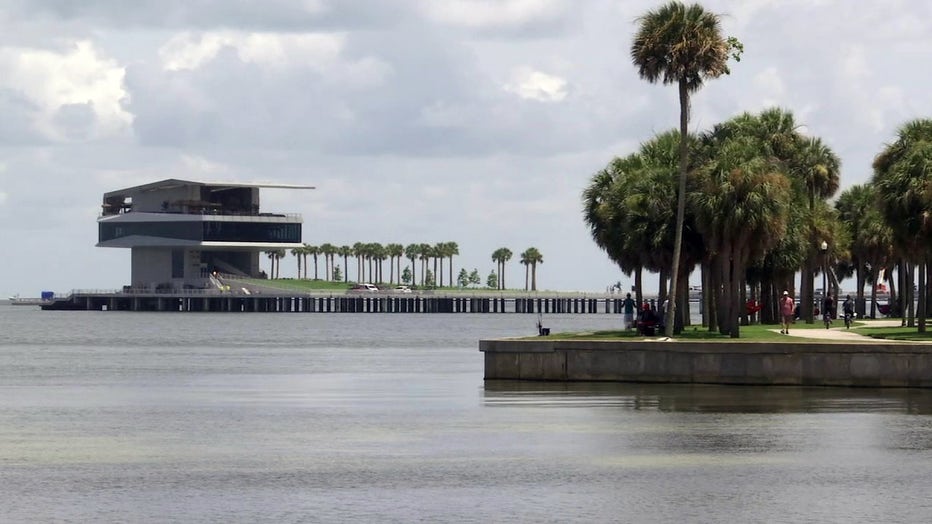 LINK: Make a reservation
The free reservation will be good for you and a plus-one or for a family that will be good for up to six individuals; they all have to be from the same household.
Visitors will be emailed a ticket to show at the gate. 
If someone has a reservation at a restaurant at the Pier, they say the reservation can be shown at the pier's gate.
Tomalin said Tuesday, so many people tried to make a reservation, they had to fix the website after it crashed. 
"The demand! I mean, we knew people were ready to get out there but the website crashing showed us just how ready people are," she added. 
The city announced other precautionary measures, which include:
1.    'Six (6) feet' Social Distancing signage will be provided for the Marketplace and other various locations throughout the District
2.    Maximum Occupancy load of 'Four (4) persons max' signage provided for Pier Head elevators
3.    Personal hygiene and hand washing signage will be provided for Pier Head & Pavilion public restrooms
4.    Pier restaurants and cafes are strongly encouraged to follow guidelines for Florida Restaurant and Lodging Association
5.    The city will be adhering to all CDC guidelines and recommendations as they change
6.    Guests are required to wear cloth face coverings/masks where social distancing measures are difficult to maintain, such as The Discovery Center, Restaurants, etc. In all other areas of the St. Pete Pier, the city strongly encourages visitors to wear cloth face coverings/masks.
7.    The city strongly encourages guests to remain home if they are experiencing any symptoms related to COVID-19
8.    St. Pete Pier amenities and restaurants will be in compliance with existing and future state, county, and municipal orders.
9.    There will be 10 touch-free hand sanitizer stations throughout the Pier District, allowing visitors to wash their hands frequently.
LINK: Additional information about the new pier can be found here.