Winter Haven man punched, tried to choke police dog, officials say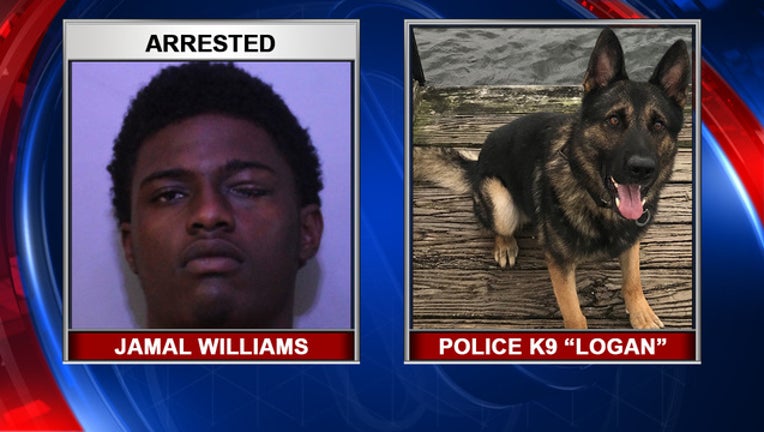 WINTER HAVEN, Fla. (FOX 13) - A Winter Haven man was arrested after attempting to choke a K9 police officer.
The incident occurred Monday around 5:50 p.m. Officers with the Winter Haven Police Department responded to a home at 1908 3rd Street NW where they learned an individual, with multiple felony warrants, may be located.
Among those officers were K9 officer Garcia and his partner, Logan. Both were positioned in an alleyway behind the home. In front of the home, officers were with 21 year-old Jamal Williams. At one point, officials said Williams fled and jumped over a fence behind the home. 
Officer Garcia told him to stop running or he would release Logan. Officers said the suspect put his hands up and started backing away. The officer took him to the ground and attempted to place his hands behind his back. 
K9 Logan approached them, and Williams punched the police dog several times and attempted to choke Logan by grabbing the dog's neck. Officer Garcia told Williams to stop punching Logan, but he didn't, officials said. The officer punched Williams, and Logan used its jaw to grab hold of Williams' forearm. Eventually, Officer Garcia gained control of Williams. 
The Winter Haven officer and K9 Logan didn't need medical attention, but Williams did have bite marks. He was treated and then transported to Polk County Jail on several charges, including striking a police dog.