Woman charged with DUI, crashing into deputy's cruiser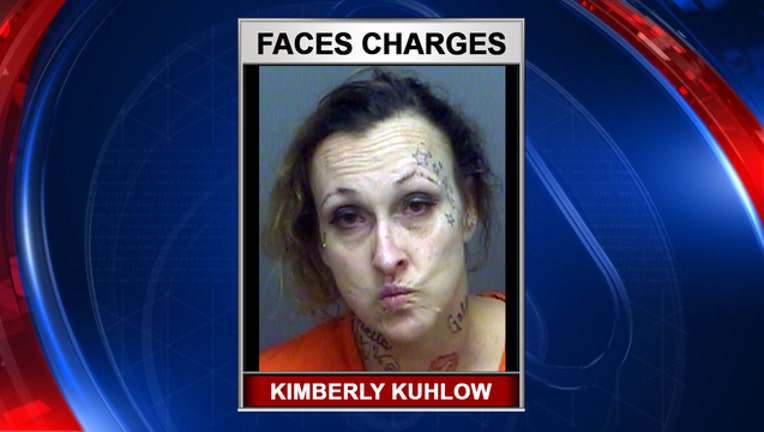 article
CLEARWATER (FOX 13) - While her bloodshot eyes may not be the first thing you notice about Kimberly Kuhlow's mug shot, they are a good indication of the state investigators say she was in early Friday morning, when she allegedly crashed into a Pinellas deputy's cruiser near Clearwater.
According to the sheriff's office, Kuhlow fled the scene after hitting the cruiser. A tow truck driver who witnessed the crash followed her until responding deputies could do a traffic stop.
Investigators say Deputy Tiffany Ashcom was on patrol Friday when she saw a car parked in the curb lane of Frontage Rd, just south of 150th Ave N. in unincorporated Clearwater. Deputy Ashcom turned on her patrol car's emergency overhead lights and pulled in behind the car, blocking it from oncoming traffic. 
The deputy called for a tow truck, but while she waited in her patrol car, investigators say a car, driven by 44-year-old Kimberly Kuhlow, of New Port Richey, hit the driver side of her cruiser and then kept going.
Deputy Ashcom was not hurt, but her cruiser was so damaged, it could not be driven. She called over her radio that her cruiser was hit. 
Meanwhile, the tow truck she called was pulling up as the deputy's cruiser was hit and witnessed what happened. The tow truck driver followed the car until responding deputies caught up and conducted a traffic stop.
When the car pulled over and deputies made contact with the driver they said they detected signs of impairment and arrested Kuhlow for one count of driving under the influence and one count of leaving the scene of a crash with property damage.
Kuhlow was taken to the Pinellas County Jail.